Aesthetic Enhancements Plastic Surgery & Laser Center: Armando Soto, MD
7009 Dr Phillips Blvd #100
Orlando, FL 32819
Phone: (407) 218-4550
Fax: (407) 218-4551
Monday–Friday: 9 a.m.–5 p.m.

Breast Augmentation With Lift
Plan Your Procedure
Price Starting At:
$9,500
Average Procedure Time:
3-4 Hours
Post-op Follow-up:
3-4 Days
Recovery Location:
Outpatient
*Includes surgical, anesthesia, and OR fees, implants, and post-surgical garments
Aging, pregnancy, and weight loss are common natural factors that cause the breasts to sag and lose volume over time. Many of our breast augmentation patients also want to lift and reshape sagging breasts, and many of our breast lift patients want to add volume with implants. That's why breast augmentation with a breast lift is so popular at our Orlando, FL, practice. It combines two cosmetic procedures to enhance the size, shape, and position of the breasts simultaneously. And since this is an area of particular expertise for Dr. Soto, he has become known from Winter Park to Kissimmee and throughout central Florida for the beautiful results he creates with this combination procedure.
After having 3 kids, my breasts were left saggy and uneven. During the consultation Dr. Soto made me feel completely comfortable, and he helped me to set realistic goals for my breast augmentation with lift. I couldn't be more happier with the final result. It was exactly what I wanted.

– M.B.
Breast Augmentation with Lift

Before & After Photos
WARNING:
This feature contains nudity. Please click OK to confirm you are at least 18 years of age and are not offended by such material.
Surgical Technique
During this surgery, board-certified plastic surgeon Dr. Soto removes excess, stretched skin, and reshapes the tissues at an elevated position. He places breast implants (or in some cases, fat) for increased volume and an overall rounder, firmer, and more youthful look. The details of your procedure depend on your preoperative examination, your goals, history, and Dr. Soto's recommendations.
Breast Lift Incision Locations
All breast lift procedures will require incisions in order to reposition the breast and nipple and remove excess skin. The ideal breast lift for you is one that is safe and creates a beautiful shape to help you achieve your goals. Your results will depend on your starting anatomy and your goals for the final appearance of your breasts. Breast lift incisions are usually some combination of one or more component incisions:
An incision made along the borderline of the areola and the breast skin
An incision made vertically from the lower border of the areola down to the natural crease below the breast (similar to a lollipop)
An incision made along the natural crease below the breast
It is important to understand that not all incision patterns are appropriate for all patients. Each incision pattern will alter the breast in a predictable and well-defined manner. The choice of the wrong incision pattern introduces a much greater risk that you will be unhappy with the shape of your breasts. Conversely, choosing the correct incision pattern for your starting anatomy, given your goals, will greatly increase the odds that you are very pleased with the outcome of your surgery. This is where you will greatly benefit from Dr. Soto's extensive training and experience in breast surgery.
Adding Breast Augmentation
Breast augmentation is one of the most common procedures performed in plastic surgery. Patients can choose between a silicone implant and one that is filled with saline. The type of implant chosen depends on the patient's aesthetic goals and their examination.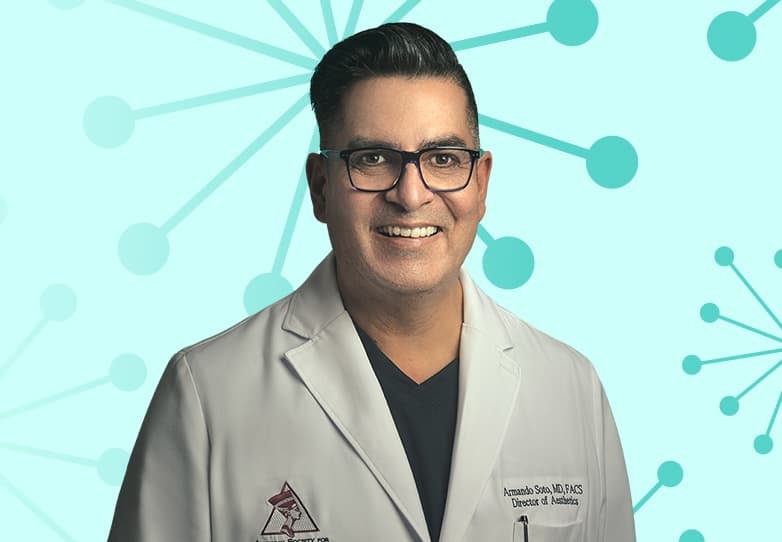 Dr. Armando Soto
Dr. Soto is a board-certified plastic surgeon who brings an exceptional level of attention, skill, and integrity to every patient and procedure. For more than 15 years, he has helped Orlando women and men look and feel fabulous using innovative yet proven surgical and nonsurgical options. As a well-respected plastic surgeon, Dr. Soto is a member of leading professional associations, including the American Society of Plastic Surgeons (ASPS) and The Aesthetic Society.
Meet Dr. Soto
Credentials You Can Trust

Breast Augmentation With Lift FAQs
Do breast implants help with breast sagging?
Implants help increase breast size, and sometimes this is all that's needed to correct very minor sagging or deflation. However, a breast lift will most likely be necessary if your breasts show true signs of sagging.
Breast sag is caused by overstretched skin and connective tissue that has lost elasticity due to natural conditions such as pregnancy, weight loss, or aging. Placing an implant does not correct the breast shape and position that results from these life events—and can actually make it worse by adding weight to a breast that has already exceeded the ability of the skin to support it. A lift corrects any sagging to create a tighter, more youthful breast appearance.
Will I need a secondary surgery after my initial procedure?
Breast lifts can last for many years, especially when patients adhere to a healthy lifestyle. Any significant weight gain or additional pregnancies could compromise the results of the surgery. We recommend having this type of surgery when you are at or near your goal weight and don't plan on becoming pregnant in the future. As for breast implants, while they may not last a lifetime, they are manufactured to last up to an average of 10 to 15 years or longer.
Will breast augmentation with a lift leave unsightly scars?
It is not possible to lift the breasts without a breast lift, and all breast lift techniques require incisions that result in scars. However, with proper attention to the postoperative care of your scars as recommended by Dr. Soto, it is very likely you will be surprised by the inconspicuous appearance your scars achieve over time.
The incisions made during a breast lift are patterned to best meet the aesthetic needs and goals of the patient. With proper scar care, your marks should fade and become barely noticeable. Most women find that their new shape and beautiful figure are well worth the scars.
Request Your Consultation
By combining breast augmentation with a breast lift, Dr. Soto can help rejuvenate your breasts and create a full, youthful appearance. If you're near Orlando, FL, and would like to learn more about your breast enhancement options, request a consultation online or call (407) 218-4550.
A Reputation Built on Results
Dr. Soto is amazing!!! I got a breast augmentation with him and I love the results so much. I've never...
My experience was great! The staff are amazing!! They made me feel so comfortable and we're always available...
I recently had a breast augmentation performed by the talented Dr. Soto, and I couldn't be happier with...