Aesthetic Enhancements Plastic Surgery & Laser Center: Armando Soto, MD
7009 Dr Phillips Blvd #100
Orlando, FL 32819
Phone: (407) 218-4550
Fax: (407) 218-4551
Monday–Friday: 9 a.m.–5 p.m.

JUVÉDERM®
Plan Your Procedure
Price Starting At:
$750/syringe
Average Procedure Time:
30-60 minutes
Women and men from all over the Southeast come to board-certified plastic surgeon Dr. Armando Soto at Aesthetic Enhancements Plastic Surgery to receive JUVÉDERM in Orlando, Florida. JUVÉDERM is commonly used to address facial wrinkles and to add volume to deflated areas on the face. It is also known to stimulate collagen production to improve skin elasticity and health.
What Is JUVÉDERM?
JUVÉDERM is a popular dermal filler composed of a synthetic hyaluronic acid (HA). Hyaluronic acid is a naturally occurring substance in the skin that retains moisture, elasticity, and volume. Dr. Soto offers two types of JUVÉDERM fillers: JUVÉDERM XC and JUVÉDERM VOLUMA XC, which both work to dramatically enhance the skin for a stunning and youthful appearance.
Your JUVÉDERM Procedure
JUVÉDERM is a gel substance that is administered via a fine needle directly into the skin. There is no sedation needed, although a numbing cream is usually applied first to help with any discomfort. The injection sites will be sterilized and marked with ink. Once the filler is injected, results are immediately noticeable. The practitioner may massage the treated area so the filler spreads evenly.
JUVÉDERM Recovery & Results
Other than temporary redness, the treatment has no after effect that will prevent a patient from going back to normal routine. Patients should avoid strenuous exercise for approximately 24 hours. After a JUVÉDERM injection, the face will look refreshed, softer, and smoother.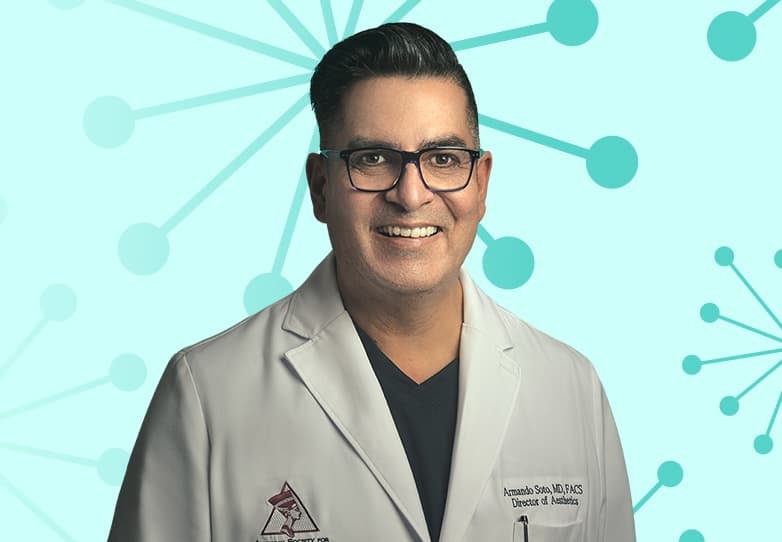 Dr. Armando Soto
Dr. Soto is a board-certified plastic surgeon who brings an exceptional level of attention, skill, and integrity to every patient and procedure. For more than 15 years, he has helped Orlando women and men look and feel fabulous using innovative yet proven surgical and nonsurgical options.
Meet Dr. Soto
Credentials You Can Trust

JUVÉDERM FAQs
Do JUVÉDERM injections hurt?
This procedure is almost pain-free, but this really is dependent on a patient's overall pain tolerance. The product is administered with a fine injection needle and a numbing cream is usually applied first to help with any discomfort. After the treatment, tingling sensations may occur, and there could be some swelling and bruising. These after-effects are temporary and usually subside within a few hours.
IS JUVÉDERM an effective alternative to facelift surgery?
Dermal fillers have an outstanding track record for successfully reducing signs of aging with less risk than surgical cosmetic treatments. Other nonsurgical options include wrinkle relaxers, such as BOTOX and Dysport. Severe cosmetic issues such as loose and sagging skin may be better resolved by a surgical facelift. The approach taken will be based on the patient's cosmetic condition and aesthetic goals.
Will JUVÉDERM make me look younger?
It is important to set realistic expectations when undergoing any cosmetic enhancement procedure. While the treatment does take years off the face, it can only do so much for patients who have severe wrinkles and skin irregularities. JUVÉDERM will definitely help decrease fine wrinkles and creases, and the skin will appear smoother and softer.
Request a Consultation
If you are interested in JUVÉDERM in the Orlando, FL, area, request a consultation online or call (407) 218-4550.
A Reputation Built on Results
Dr. Soto is a wonderful surgeon. I drive two hours to his office and after several consultations with...
Dr Soto is an amazing physician! This is the second procedure that he has done for me! I can not express...
I had a breast augmentation done with Dr. Soto and I couldn't recommend him + his team enough! They...
I don't normally write reviews but after my experience with Dr. Soto, I had to. From the front desk...