Aesthetic Enhancements Plastic Surgery & Laser Center: Armando Soto, MD
7009 Dr Phillips Blvd #100
Orlando, FL 32819
Phone: (407) 218-4550
Fax: (407) 218-4551
Monday–Friday: 9 a.m.–5 p.m.

MyEllevate®
Plan Your Procedure
Price Starting At:
$7,500
Average Procedure Time:
1-2 Hours
Post-op Follow-up:
3-4 Days
*Includes surgical, anesthesia, and OR fees, and post-surgical garments
You no longer have to depend on turtlenecks or scarves to hide lax, sagging neck skin. Board-certified plastic surgeon Dr. Armando Soto helps men and women rejuvenate their aging necks and chins using MyEllevate®, a minimally invasive neck lift alternative. This contouring treatment allows Orlando, FL, patients to reduce the appearance of a "double chin" or "turkey neck." MyEllevate tightens the neck area and enhances the face's contours, instantly creating a more youthful profile.
At 59, my face needed some help. I met with Dr. Soto who guided me to the best approach for my eyes and neck. A virtually painless procedure made all the difference!

– J.B.
What Is MyEllevate?
MyEllevate (also known as a "Zoom Lift") is a minimally invasive facial contouring procedure that creates natural-looking, long-lasting results. It is used to address mild to moderate loose skin around the neck and jawline. This skin laxity can be caused by many factors, such as age or major weight loss. If you struggle with sagging folds of skin or wrinkles along the neck, MyEllevate can help turn back the clock without traditional surgery.
Your Minimally Invasive Neck Lift Procedure
Patients are given local anesthesia to make treatment as comfortable as possible. After the anesthesia has taken effect, Dr. Soto and his team use light-guided suture technology known as ICLED. The ICLED illuminated suture rod helps guide the treatment threads towards the proper locations just beneath the skin. Each suture creates a strategic support system for the glands and muscles throughout the neck and jawline, lifting and defining the patient's profile.
The entire MyEllevate procedure typically takes around 1 hour to complete. MyEllevate can be used as a standalone procedure or in conjunction with other skin tightening treatments.
MyEllevate Recovery & Results
Unlike with a traditional neck lift, MyEllevate results can be seen almost instantly. Your neck and jaw will look sharper and more defined as the skin and tissues are lifted into place. In some cases, there is a bit of bruising or swelling around the treatment area. These side effects are minor and will fade within 1 to 2 days.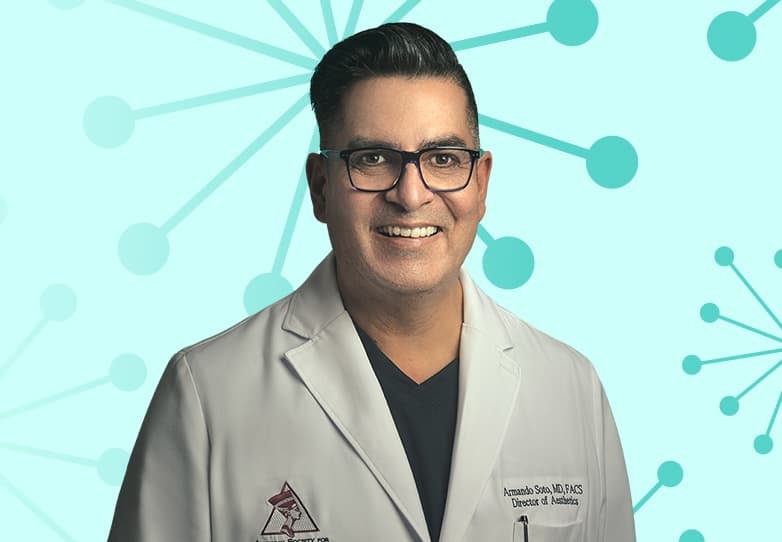 Dr. Armando Soto
Dr. Soto is a board-certified plastic surgeon who brings an exceptional level of attention, skill, and integrity to every patient and procedure. For more than 15 years, he has helped Orlando women and men look and feel fabulous using innovative yet proven surgical and nonsurgical options.
Meet Dr. Soto
Credentials You Can Trust

MyEllevate FAQs
What is the difference between MyEllevate and a neck lift?
A neck lift is a plastic surgery procedure performed under general anesthesia. During treatment, the surgeon will make small incisions behind the ears and below the chin, allowing them to tighten neck muscles or remove unwanted skin and fat. While the results are more dramatic than nonsurgical alternatives, a longer recovery time is needed. MyEllevate treatments, on the other hand, are minimally invasive and require little downtime. There are fewer extensive incisions, the price point is lower, and most patients can return to their daily schedule shortly after their appointment.
Who is the best candidate for MyEllevate?
The best candidates for MyEllevate are those in good health but have excess skin around the jaw and neck. Patients should maintain a steady weight for at least 3 months before considering treatment. You can also ask Dr. Soto if you are a good candidate for Renuvion®, a minimally invasive skin tightening treatment that's often combined with neck liposuction.
How long do MyEllevate results last?
Results have proved to be incredibly long-lasting, with some patients even reporting positive results up to 7 years later.
Request Your Consultation
If you would like to tone and tighten loose skin around your neck, Dr. Soto can help you rejuvenate your profile with a MyEllevate procedure. To learn more about alternative neck lift procedures in the Orlando, FL, area, request a consultation online or call (407) 218-4550.
A Reputation Built on Results
Doc Soto and his staff are wonderful! The work he does is fantastic, his staff is pleasant and nice...
To say that I am happy with my abdominoplasty is an understatement. Dr. Soto is a consummate professional...
I have been doing botox and fillers at this medical facility for over a decade and each time is alway...
Dr. Soto and the team is nothing short of kind and amazing!! They were honest, open, accommodating as...