Aesthetic Enhancements Plastic Surgery & Laser Center: Armando Soto, MD
7009 Dr Phillips Blvd #100
Orlando, FL 32819
Phone: (407) 218-4550
Fax: (407) 218-4551
Monday–Friday: 9 a.m.–5 p.m.

Avéli™ Cellulite Treatment
Avéli™ Cellulite Treatment
Plan Your Procedure
Price Starting At:
$2,000
Average Procedure Time:
30 minutes - 1 hour
Post-op Follow-up:
1 week
Women searching for an effective cellulite reduction treatment in the Orlando, FL, area now have a solution that addresses the unsightly "cottage cheese" appearance on the buttocks and thighs. At Aesthetic Enhancements Plastic Surgery, Dr. Armando Soto offers Avéli, a minimally invasive and FDA-cleared one-time treatment for cellulite reduction.
What Is Avéli?
Avéli is an innovative cellulite treatment targeting the fibrous bands that cause cellulite. The fibrous bands, called septa, tether to the skin and pull it down. The bands connect to the fascia, a thin layer covering the muscle. Fat cells between the fibrous bands push up against the skin, creating the tell-tale dimpled appearance that makes many women self-conscious about wearing shorts or bikinis. About 85% of women develop cellulite at some point in their lives, and most can benefit from Avéli treatment.

It's important to know that cellulite isn't necessarily the result of being overweight. Genetics and hormonal imbalances can also play a role. Some patients may have loose skin or localized fat and can benefit from other treatments. For example, you may want to ask about getting CoolSculpting® or EMSCULPT NEO® treatments if you're concerned about localized pockets of fat.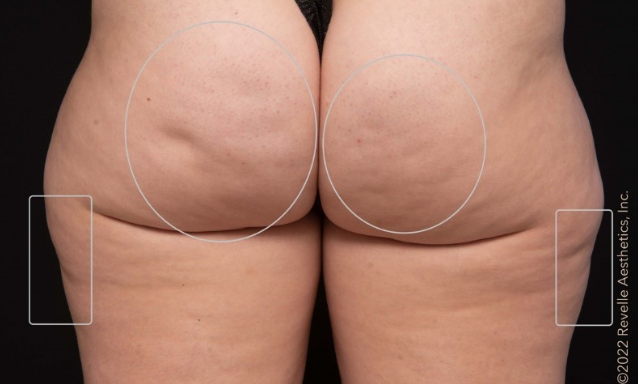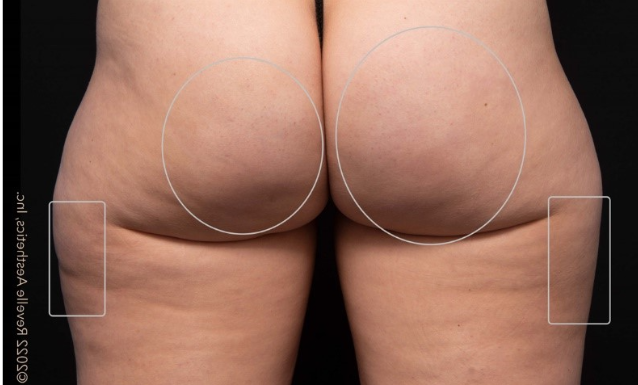 Photos courtesy of Revelle Aesthetics, Inc.
What Happens During a Treatment?
Before starting a treatment, Dr. Armando Soto will ask you about your specific concerns and cosmetic goals. Dr. Soto then marks specific dimples while you're standing because they are more visible than when lying down. After numbing the treatment area with a local anesthetic, Dr. Soto makes a small, concealed incision. He then inserts the hand-held device, which has a thin cannula equipped with a light. This light helps guide the doctor's cannula movement below the skin's surface.
Dr. Soto positions the device next to a fibrous band that needs to be detached and releases a blade that's safely housed in the cannula. He then cuts the fibrous band to release the skin, which becomes smoother.
Photos courtesy of Revelle Aesthetics, Inc.
What Is Recovery Like After an Avéli Treatment?
Patients typically experience discomfort and swelling for a few days after the treatment, but you can expect to resume normal activities within a day. You should postpone more strenuous exercise until the treatment area is completely healed.
Frequently Asked Questions
How long does the procedure take?
Treatment time depends on the extent of the procedure needed to reach the patient's goals, but you should plan for the treatment to take about an hour.
When will I see the results?
One of the benefits of an Avéli treatment is that patients see results once swelling and bruising subside entirely, which usually occurs about a month after the procedure.
What is the best cellulite treatment?
Cellulite treatments take different approaches to releasing the fibrous bands. What sets Avéli apart from other procedures is its unmatched precision and the control doctors have during the treatment.
How many treatments are needed?
Patients get the cellulite reduction they want for dimples on both the buttocks and thighs after only 1 treatment session.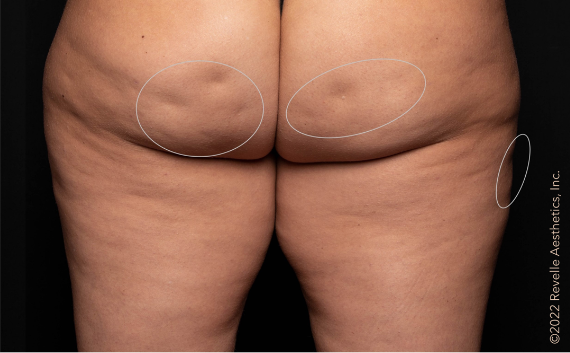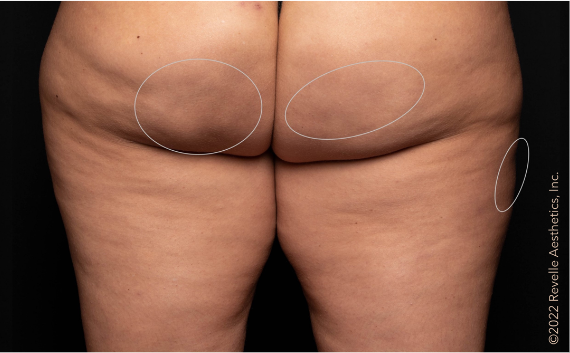 Photos courtesy of Revelle Aesthetics, Inc.
Request Your Consultation
Avéli can help women in Orlando and throughout Central Florida reduce cellulite on their buttocks and thighs. To learn more about cellulite reduction and other med spa treatments in the Central Florida area, request a consultation using the online form or call (407) 218-4550.