Aesthetic Enhancements Plastic Surgery & Laser Center: Armando Soto, MD
7009 Dr Phillips Blvd #100
Orlando, FL 32819
Phone: (407) 218-4550
Fax: (407) 218-4551
Monday–Friday: 9 a.m.–5 p.m.

MOXI™ Laser Skin Rejuvenation
MOXI™ Laser Skin Rejuvenation
Plan Your Procedure
Recovery Time:
No Recovery Time Needed
Average Procedure Time:
Customized to Each Patient
Post-op Follow-up:
No Follow Up Needed
A Gentle Approach To Smoother, More Radiant Skin
What Is Laser Skin Rejuvenation?
Board-certified plastic surgeon Dr. Armando Soto offers laser skin rejuvenation treatments to his patients who wish to enhance and strengthen their skin. The MOXI™ micro-fractional laser technology safely and effectively improves skin texture and addresses the effects of aging, such as fine lines, discoloration, and wrinkles. It's a very popular skin treatment at Aesthetic Enhancements Plastic Surgery in Orlando, FL because it benefits ALL skin types, including those with sensitive skin. This state-of-the-art technology shrinks damaged skin cells, softens wrinkles, reduces the appearance of sun spots, and promotes collagen production. Results can shave off years of the patient's appearance and lead to smoother, younger-looking skin.
How Do MOXI Lasers Work?
MOXI is a non-ablative laser that uses "fractions," or skips, of light to target skin tissue. This technology enables the technician to have a great amount of control without harming the surrounding tissue. The intervals of light provide a calculated heating and cooling energy that produce less pain and require less recovery time than other laser skin treatments. This process stimulates collagen production, smoothes wrinkles, improves brown spots, and tightens the skin.
How Is Laser Skin Rejuvenation Performed?
The treatment area will first be gently cleansed of any makeup, lotions, or oils prior to the MOXI laser procedure. Typically, patients don't find the discomfort of MOXI to be intolerable, but a local anesthetic can be applied to ease discomfort. Treatments usually take around 30 minutes in total and, once the session is complete, a protective ointment is immediately applied to the skin. Although patients can return to their daily activities after their treatment, they should refrain from direct sun exposure in order to protect their skin. Some results are instantly visible, but optimal results will usually be visible within 4 to 6 months of the procedure.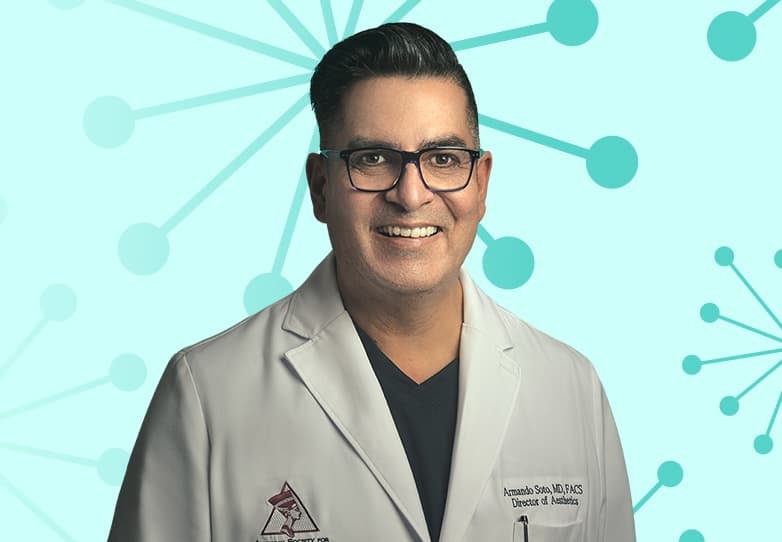 Dr. Armando Soto
Dr. Soto is a board-certified plastic surgeon who brings an exceptional level of attention, skill, and integrity to every patient and procedure. For more than 15 years, he has helped Orlando women and men look and feel fabulous using innovative yet proven surgical and nonsurgical options. As a well-respected plastic surgeon, Dr. Soto is a member of leading professional associations, including the American Society of Plastic Surgeons (ASPS) and The Aesthetic Society.
Meet Dr. Soto
Credentials You Can Trust

Frequently Asked Questions About Laser Skin Rejuvenation with MOXI
How is MOXI different?
What sets MOXI apart from other laser skin procedures is its high-end technology that enables greater results in a shorter period of time. A single MOXI treatment takes about 30 minutes whereas other laser treatments tend to be at least one hour. The MOXI is also less invasive than other laser treatments. MOXI is different than any other laser treatment because it is safe for use on EVERY skin type, all year-round with zero downtime required.
What is collagen?
Collagen is a protein found in the skin, bones, muscles, and tendons of the body. It provides structural support, strength, and elasticity. As we age, the production of collagen declines and therefore leads to saggy skin, fine lines, wrinkles, and a loss of elasticity. MOXI stimulates the body's natural collagen production, which helps to strengthen and maintain the integrity of the skin.
Are there any aftercare tips?
Patients will be given an Aquaphor® ointment to apply to their skin for the next several days following their procedure to ensure skin protection. They are also highly encouraged to refrain from outdoor activities that will expose their skin to direct sunlight. Frequent applications of sun protection are also very important in terms of maintaining results.