Aesthetic Enhancements Plastic Surgery & Laser Center: Armando Soto, MD
7009 Dr Phillips Blvd #100
Orlando, FL 32819
Phone: (407) 218-4550
Fax: (407) 218-4551
Monday–Friday: 9 a.m.–5 p.m.

After Weight Loss Surgery
Plan Your Procedure
Price Starting At:
$16,000
Average Procedure Time:
4-5 Hours
Post-op Follow-up:
3-4 Days
Recovery Location:
Out-Patient
*Includes surgical, anesthesia, and OR fees, and post-surgical garments
Patients who have lost a significant amount of weight often visit Orlando board-certified Plastic Surgeon Dr. Armando Soto at Aesthetic Enhancements Plastic Surgery to consult about after weight loss surgery. In Dr. Soto's expert hands, these procedures remove and tighten excess, loose skin in areas around the abdomen, hips, thighs, buttocks, arms, neck, and face. Today, advanced technology and techniques enable Dr. Soto to trim saggy skin and contour the body to the ideal profile patients are looking for. With Bodytite and VASER technologies, he is often able to achieve these goals for his patients with less scarring and recovery than what was possible with older techniques. Women and men from Winter Park, Kissimmee, and throughout central Flordia considering plastic surgery after weight loss should be at or near their goal weight and have a BMI (body mass index) of less than 30. Results produce a transformed, trim figure that enables patients to enjoy their new bodies to the fullest.
Conditions Treated
Patients who have lost a significant amount of weight through bariatric surgery or semaglutide treatments, or on their own often realize the need for skin removal surgery when the following conditions become evident as they near their goal weight:
Sagging, deflated breasts
Loose folds of skin around the abdomen
Hanging skin and fat pockets around the hips
Sagging skin and excessive wrinkling around the buttocks area
Hanging skin from the inner thigh to the knee area
"Bat wings" or loose skin on the underside of the arms
"Turtle neck" or loose skin around the neck
Many of these conditions are inevitable after any major weight loss because skin, when stretched for a long time, loses its elasticity and fails to shrink back as the body becomes smaller. This lost elasticity, combined with a true excess of skin that results from the patient's loss of mass, results in sagging of the skin and deformity of appearance.
Combination Surgeries
When performed by Dr. Soto, body contouring procedures and surgeries are designed to artistically remove excess skin, with reshaping in the body. This results in a tighter and firmer appearance and more attractive shape. Dr. Soto may recommend grouping certain treatments together as they relate to the lower or upper body in order to minimize the number of procedures necessary to achieve your goals, as well as the risks of complications. An example of how procedures might be combined include: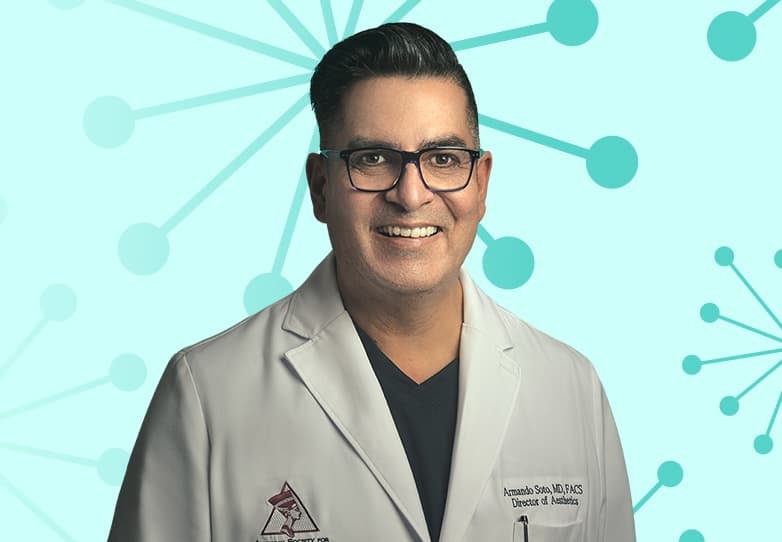 Dr. Armando Soto
Dr. Soto is a board-certified plastic surgeon who brings an exceptional level of attention, skill, and integrity to every patient and procedure. For more than 15 years, he has helped Orlando women and men look and feel fabulous using innovative yet proven surgical and nonsurgical options.
Meet Dr. Soto
Credentials You Can Trust

During/After Surgery
After weight loss surgery is usually performed under general anesthesia. The number of hours it takes to complete your operation will vary according to the details of your procedure, but on average it will take between 3-7 hours. An overnight stay in our accredited facility may be required. While scarring is to be expected, Dr. Soto and his team will make every effort to ensure that the incisions are located in positions designed to be as inconspicuous as possible, and that they mature in the best possible way. It is critical for you to appropriately engage and participate in your postoperative care in order to maximize the safety and outcome of your procedure. For many patients, the results after surgery are so positive and impactful, they are life-changing.
After Weight Loss Surgery FAQS
Common Areas Treated?
Typical body parts that can be addressed after weight loss are the abdomen, buttocks, upper thighs, breasts, arms, and neck. The most common areas for improvement include the breasts and torso area, which can sometimes be done at the same time. During the course of losing weight, the areas of loose skin will become more obvious and it is usually around this time that patients seek consultation with Dr. Soto.
Ideal Timing?
Before moving forward with this procedure, patients should be at or near their goal weight, and have a BMI (body mass index) of less than 30. Sometimes, removing the loose skin helps accelerate further weight loss. This may be the case when loose skin gets in the way of the patient's daily physical activities.
Will Insurance Cover The Cost?
Insurance companies, for the most part, will not cover the expenses associated with cosmetic surgery. However, coverage does vary and sometimes may apply to weight loss patients where loose skin becomes a medical problem. Our billing coordinator works to provide accurate estimates and will thoroughly check the benefits of each provider.