Aesthetic Enhancements Plastic Surgery & Laser Center: Armando Soto, MD
7009 Dr Phillips Blvd #100
Orlando, FL 32819
Phone: (407) 218-4550
Fax: (407) 218-4551
Monday–Friday: 9 a.m.–5 p.m.

MicroLaserPeel®
Plan Your Procedure
Average Procedure Time:
1-2 Hours
Post-op Follow-up:
4-6 Weeks
Recovery Location:
Out-Patient
What Is MicroLaserPeel?
For those struggling with the texture of their skin, a MicroLaserPeel can be a beneficial option. This state-of-the-art procedure removes a thin, outer layer of damaged skin in order to reveal newer, younger-looking skin underneath. Its popularity is due in large part to its ability to function at variable depths, ensuring each patient is able to be treated according to their exact needs. Dr. Armando Soto performs MicroLaserPeels at Aesthetic Enhancements Plastic Surgery, his practice located in Orlando, FL.
MicroLaserPeel

Before & After Photos
Is MicroLaserPeel Right For Me?
This treatment is designed to aid in the removal of many types of damaged skin and can be applied almost anywhere on the body. For instance, many patients choose to have their face, neck, chest, or hands treated during the procedure. Skin imperfections that can be treated by a MicroLaserPeel include:
Mild wrinkles
Scars
Keratosis
Sun damage
Pigment irregularities
How Is MicroLaserPeel Performed?
The procedure uses thermal energy from a laser in order to safely remove a thin layer of skin from the targeted area. This eliminates dead and damaged skin cells that are only serving to make the skin look old and tired. Depending on the size of the targeted area, as well as the severity of the skin affliction, the treatment usually only takes between 15 – 30 minutes. As time passes, the skin will heal, and new healthy cells will replenish the affected area. Typically, this results in smooth, youthful skin with less wrinkles and improved color.
While great results can be had after just one session, some patients may need to return for multiple treatments in order to completely rejuvenate their skin. Dr. Soto will work with you to create a treatment plan during your initial consultation if he believes you may require more than one session.
What to Expect After MicroLaserPeel
Immediately after the session, the skin may appear to be dehydrated. This is entirely normal and the skin should peel off during the days after the treatment. During this time, patients may also notice redness, irritation, or mild swelling, but these side effects should also subside within just a few days. In fact, many patients feel well enough to go back to work within just 3 – 4 days.
It's important to avoid prolonged exposure to the sun until your skin is fully healed, as the treatment area will be especially sensitive to UV rays until that point. When you do have to go outside, you should always remember to apply sunscreen to keep your skin protected.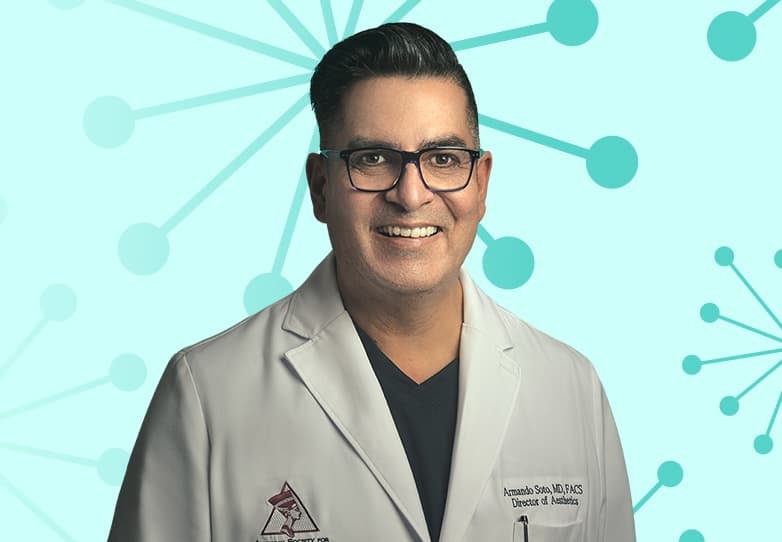 Dr. Armando Soto
Dr. Soto is a board-certified plastic surgeon who brings an exceptional level of attention, skill, and integrity to every patient and procedure. For more than 15 years, he has helped Orlando women and men look and feel fabulous using innovative yet proven surgical and nonsurgical options.
Meet Dr. Soto
Credentials You Can Trust

Say Goodbye To Damaged Skin
A MicroLaserPeel can be an excellent option for anyone hoping to rid themselves of a number of mild skin imperfections. With a short treatment time and a recovery process that only lasts a few days, it's a quick and easy way to feel better about the condition of your skin. Schedule an appointment with Dr. Armando Soto today at Aesthetic Enhancements Plastic Surgery in Orlando, FL to determine whether or not this procedure might be best for you.