Aesthetic Enhancements Plastic Surgery & Laser Center: Armando Soto, MD
7009 Dr Phillips Blvd #100
Orlando, FL 32819
Phone: (407) 218-4550
Fax: (407) 218-4551
Monday–Friday: 9 a.m.–5 p.m.

NanoLaserPeel™
Plan Your Procedure
Average Procedure Time:
1-2 hours
Post-op Follow-up:
4-6 weeks
The NanoLaserPeel by Sciton is a minimal recovery laser skin resurfacing treatment offered in Orlando at Aesthetic Enhancements Plastic Surgery. It gently ablates a very thin layer of the skin, producing superficial resurfacing, and leading to a refreshed appearance. With repeated treatments, remarkable improvement in lines and wrinkles can be seen, even in areas other laser treatments would not be safe or effective.
Outstanding service and team!! After months of research, I finally found Dr Soto, I could not recommend enough!! Variety of services offered. Staff are amazing, helpful and welcoming! Very professional and outstanding work quality!

– L.F.
What Does NanoLaserPeel Treat?
This treatment is effective at treating:
Fine lines and wrinkles
Scars
Brown spots and other pigment irregularities
The Nano Laser Peel is most popular for the treatment of the face and neck area, but is very effective and safe on the body and extremities as well.
Your NanoLaserPeel Procedure
As performed by either Dr. Soto or our skilled nurse practitioner, the NanoLaserPeel uses light energy to precisely remove the top layer of the skin. The depth reached by this laser is safe and effectively promotes the skin's renewal. The procedure is fairly quick, generally taking less than 30 minutes.
NanoLaserPeel Recovery & Results
Immediately after the procedure, you will have a sensation of warmth, but pain is very rare. Most patients experience 1-2 days of downtime following their procedure, during which the superficial layers of skin are pink and healing. Because your new skin will be more vulnerable for a short time, it is important to remember to wear an SPF on the treated areas following your procedure. You will see improvement quickly, and your skin will feel smooth and soft immediately following treatment. We will make recommendations for skincare and maintenance of your outcome based on the details of your procedure, your skin type, and your goals.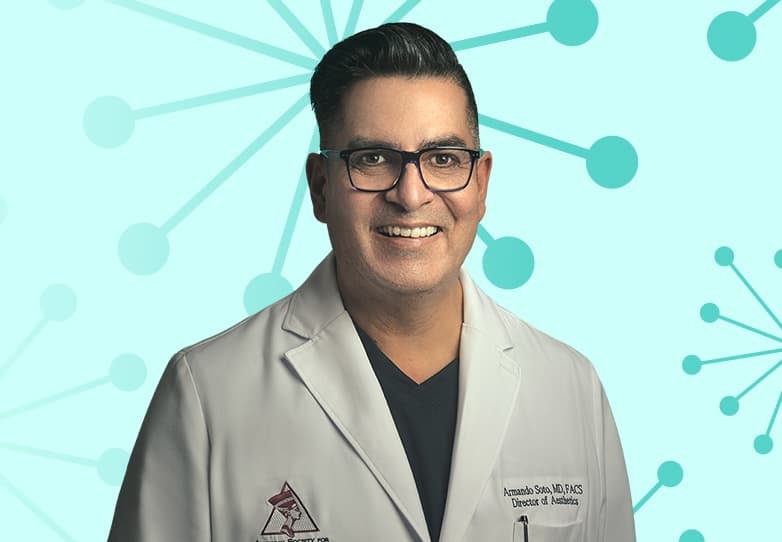 Dr. Armando Soto
Dr. Soto is a board-certified plastic surgeon who brings an exceptional level of attention, skill, and integrity to every patient and procedure. For more than 15 years, he has helped Orlando women and men look and feel fabulous using innovative yet proven surgical and nonsurgical options.
Meet Dr. Soto
Credentials You Can Trust

NanoLaserPeel FAQs
Can I combine NanoLaserPeel with other treatments?
The NanoLaserPeel is a great add-on option to your BOTOX and filler treatments to reveal a new youthful glow! It is also an excellent addition to HALO™ treatments, or with BBL.
Is NanoLaserPeel painful?
For Nanopeels, we use a chilling device that cools the skin as the treatment is performed. This keeps our patients quite comfortable, as the procedure doesn't penetrate deeply enough into the skin to require any local anesthetic.
Request a Consultation
Aesthetic Enhancements Plastic Surgery is happy to provide the most up-to-date technology in the cosmetic field, including NanoLaserPeel laser skin resurfacing, at our Orlando, FL, practice. If you would like to talk with Dr. Soto about skin treatments, request a consultation online or call (407) 218-4550.
A Reputation Built on Results
Dr Soto and his staff exceeded all of my expectations. I felt cared for, listened to, and respected...
I can not say enough about how wonder Dr. Soto was in my breast lift and augmentation. As my first and...
My experience with Dr. Soto and his team was amazing. I was impressed by how fast I got an appointment...
Dr. Soto and his team are absolutely amazing. From the first day I walked in until present, everyone...