Aesthetic Enhancements Plastic Surgery & Laser Center: Armando Soto, MD
7009 Dr Phillips Blvd #100
Orlando, FL 32819
Phone: (407) 218-4550
Fax: (407) 218-4551
Monday–Friday: 9 a.m.–5 p.m.

Pectoral Implants
Plan Your Procedure
Price Starting At:
$9,000
Average Procedure Time:
1-2 Hours
Post-op Follow-up:
3-4 Days
Recovery Location:
Out-Patient
*Includes surgical, anesthesia, and OR fees, implants, and post-surgical garments
Board-certified plastic surgeon Dr. Armando Soto performs pectoral implant surgery for men who desire a stronger chest contour. This procedure is ideal for men who are naturally very flat-chested or who suffer from Poland's syndrome. However, men who have a fairly chiseled and defined chest also frequently receive implants to further enhance their masculine physique. Dr. Soto consults with every patient to discuss their aesthetic goals and needs to customize their pec augmentation treatment plan at Aesthetic Enhancements Plastic Surgery in Orlando, Florida. Men from Winter Park and throughout central Florida choose Dr. Soto for chest enhancement surgery. Once silicone implants are formed and sculpted to the specific desires of the patient, they are inserted to create a fuller, sharper chest. Recovery time ranges from 2-6 weeks, but results are long-lasting.
Pectoral Implants

Before & After Photos
Surgical Technique
Prior to the procedure, Dr. Soto will discuss the different sizes and shapes of implants that will best determine a patient's aesthetic goals and desires. Once the implant size is determined and the patient is safely placed under general anesthesia, a small incision will be made in the armpit region for implant insertion. The incision is generally 1-2 inches wide, which allows for quick healing. Surgical tools are then used to create a "pocket" in between the chest muscles for implant insertion. Once the implant is securely placed, the incision is sutured and the process is repeated to the opposite side.
Silicone vs. Fat Transfer
Silicone implants are available in various shapes and sizes, which means there are plenty of options that will suit a patient's desired size and needs. Customized silicone implants can also be individually created for patients who have an asymmetrical or deformed chest. However, fat transfers may be an option for patients who prefer a more natural method. Dr. Soto will be able to determine if a patient is an ideal candidate for a fat transfer during their consultation.
During/After Surgery
Generally, a pectoral implant procedure takes 1 – 2 hours and upon completion, patients are safely escorted to our on-site recovery room for further monitoring. During this time, a breathable compression garment is gently placed around the chest to ease swelling and discomfort. After a short observation, patients are released and encouraged to refrain from vigorous activities like running and heavy lifting. Typically, the incisions heal within 2 – 6 weeks and scars are barley visible and easily concealed since they are in the armpit region.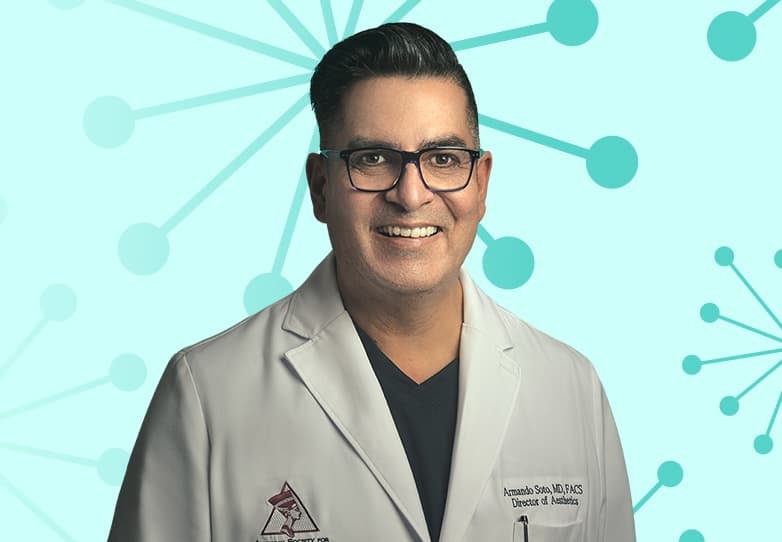 Dr. Armando Soto
Dr. Soto is a board-certified plastic surgeon who brings an exceptional level of attention, skill, and integrity to every patient and procedure. For more than 15 years, he has helped Orlando women and men look and feel fabulous using innovative yet proven surgical and nonsurgical options.
Meet Dr. Soto
Credentials You Can Trust

Pectoral Implants FAQS
Combine With Other Procedures?
Pectoral implantation can be combined with other cosmetic procedures. Most men decide to combine pectoral implant surgery with vaser liposuction to define and improve their chest, abdomen and love handles. However, combining pectoral implant surgery with other procedures will increase the cost of the surgery.
Can I Workout?
Generally, patients can return to routine exercise and other strenuous activities 2-3 weeks after surgery. Incisions in the armpits need the appropriate time to heal so bruising and swelling can subside. Wearing a compression garment can help speed up the recovery process.