Aesthetic Enhancements Plastic Surgery & Laser Center: Armando Soto, MD
7009 Dr Phillips Blvd #100
Orlando, FL 32819
Phone: (407) 218-4550
Fax: (407) 218-4551
Monday–Friday: 9 a.m.–5 p.m.

Breast Lift
Plan Your Procedure
Price Starting At:
$9,000
Average Procedure Time:
3-4 Hours
Post-op Follow-up:
3-4 Days
Recovery Location:
Outpatient
*Includes surgical, anesthesia, and OR fees, and post-surgical garments
Over time, breasts can lose their perkiness and begin to sag and point downward. The surgical solution for this is a breast lift. In Orlando, breast lift patients from Winter Park, Kissimmee, and throughout central Florida trust board-certified plastic surgeon Dr. Armando Soto to reshape and reposition deflated and sagging breasts. The procedure removes excess skin from around the breasts and elevates and reshapes remaining tissues to create a perky appearance.
Breast lift surgery does not increase the size of breasts but improves the position, shape, firmness, and appearance of low-hanging or droopy breasts. Patients who undergo this procedure and wish to enhance their cup size can undergo a breast augmentation as well.
I am currently 6 weeks post-op after a breast lift and I am completely amazed with my results. Scars are minimal and can't believe the shape Dr. Soto was able to achieve without implants! Couldn't be happier!

– K.Y.
Breast Lift Incision Types
Women who contemplate undergoing breast lift surgery often wonder what the incisions will look like and how bad the scarring will be after the procedure. The incisions vary depending on how severe the breast sagging is and how much tissue volume is present. The most common incisions are:
Along the line surrounding the areola – best for minimal sagging.
Along the line surrounding the areola, plus a vertical incision down to the natural crease below the breast – usually used for moderate sagging.
Along the line surrounding the areola, plus a vertical incision down to the natural crease below the breast, and another horizontal line following the direction of the breast fold – for moderate to significant sagging.
Your Breast Lift Procedure
As stated above, the extent of the incision depends on the beginning shape of the breasts, your goals, and the quantity and qualities of your skin and tissues. Dr. Soto will trim excess skin away, and the underlying breast tissues tightened. The remaining tissues and skin are then reshaped and closed using sutures. An implant placed underneath the chest muscle can supplement the lift, as it can provide additional support and provide the patient's desired firmness.
Breast lift surgery is performed using general anesthesia at our accredited surgery facility. On average, the procedure will take between 2 and 3 hours.
Breast Lift Recovery & Results
The recovery varies, as some patients will have had a breast lift in combination with a breast reduction surgery, or with augmentation using implants.
Patients are encouraged to move around within the first 48 hours. Activities such as carrying heavy objects or any activity that puts pressure on the chest must be avoided. Most patients can resume daily activities within 1 to 2 days, but you should not attempt exercise and other activities requiring exertion or upper body strain until you are cleared by Dr. Soto.
There will be some scarring associated with this procedure, but with the proper care, scars will heal and fade to a surprisingly inconspicuous and faint appearance. Within a few weeks, swelling will subside, and your breasts will be more youthful, attractively shaped, and positioned higher on the chest wall for a natural and flattering appearance.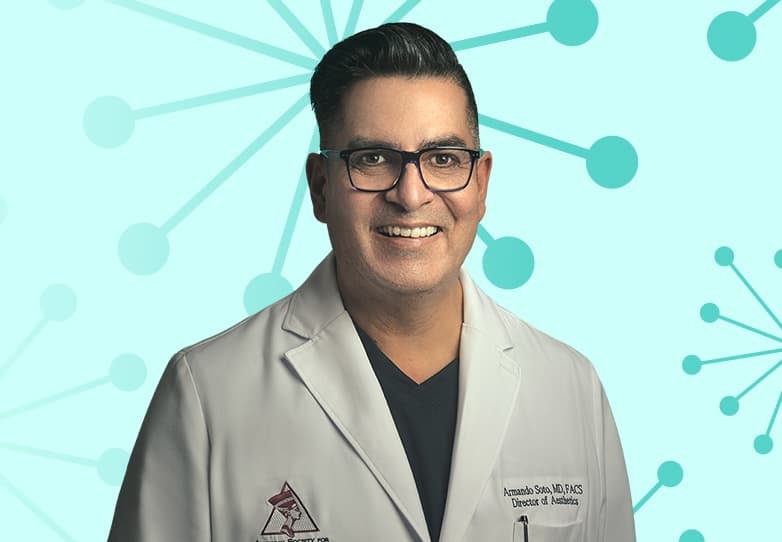 Dr. Armando Soto
Dr. Soto is a board-certified plastic surgeon who brings an exceptional level of attention, skill, and integrity to every patient and procedure. For more than 15 years, he has helped Orlando women and men look and feel fabulous using innovative yet proven surgical and nonsurgical options.
Meet Dr. Soto
Credentials You Can Trust

Breast Lift FAQs
How do I know if I need a breast lift or a breast augmentation?
The best procedure will depend on your aesthetic goals, the quality of your tissues and skin, and the current breast form. A breast lift will help correct sagging, drooping, or deflated breasts. After this surgery, patients are often happy with their breast size because the lift alone creates a fuller-looking breast. If the patient wishes to have more volume and increase the breast size, implants or fat transfer may be recommended.
Before surgery, Dr. Soto will provide a thorough consultation and assessment. He will advise you if a lift alone is all that you need, or if an augmentation and a lift may be done as a combination surgery, or in stages.
Does nipple repositioning happen during a breast lift?
The nipple is often repositioned and resized during a breast lift so that it looks proportional to the newly shaped breast. When excess skin is trimmed away, a portion of an overly stretched areola (the colored skin around the nipple) is simultaneously trimmed away. The goal is for the nipple and areola to be within a normal size and position.
How bad is scarring after a breast lift?
When incisions are made to trim away the skin, scars are an inevitable part of the process. Plastic surgeons are experts when it comes to minimizing scarring with precise techniques when it comes to incisions and suturing. Dr. Soto recommends a post-surgery scar care program, and patients are strongly encouraged to follow the plan so that healing is healthy and quick.
Request Your Consultation
Dr. Soto can rejuvenate your breasts and raise them into a perkier, more youthful shape with the help of breast lift surgery. If you're in the Orlando, FL, area and would like to learn more about breast lift or other plastic surgery treatment options, request a consultation online or call (407) 218-4550.
A Reputation Built on Results
Dr Soto and his staff exceeded all of my expectations. I felt cared for, listened to, and respected...
I can not say enough about how wonder Dr. Soto was in my breast lift and augmentation. As my first and...
My experience with Dr. Soto and his team was amazing. I was impressed by how fast I got an appointment...
Dr. Soto and his team are absolutely amazing. From the first day I walked in until present, everyone...