Aesthetic Enhancements Plastic Surgery & Laser Center: Armando Soto, MD
7009 Dr Phillips Blvd #100
Orlando, FL 32819
Phone: (407) 218-4550
Fax: (407) 218-4551
Monday–Friday: 9 a.m.–5 p.m.

BBL™ & BBL HERO® Therapy
Plan Your Procedure
Recovery Time:
No Recovery Time
Average Procedure Time:
30 Minutes - 2 Hours
Post-op Follow-up:
4-6 Weeks
What Is Broadband Light Therapy?
BroadBand Light Therapy (or BBL) uses regenerating technology to enhance the aesthetics of the skin, and also makes it appear younger and smoother. It works by employing therapeutic light energy that gently warms the top layer of skin and generates collagen production. Patients with a variety of skin issues can benefit from BBL, as it functions to address unwanted freckles, rosacea, broken blood vessels, and sun damage. It can also help create a more smooth and even skin surface texture to generate fresh, glowing skin. BBL may be added to other aesthetic treatments to fulfill your wishes and goals. Aesthetic Enhancements Plastic Surgery in Orlando, FL, offers BBL at the recommendation of Dr. Armando Soto as an advanced therapy proven to help rejuvenate our patients' skin. We utilize the BBL™ and BBL HERO platforms by Sciton® to ensure each treatment is fast and provides the highest quality results.
Is Broadband Light Therapy Right For Me?
A great candidate for BBL is anyone dealing with hyperpigmentation or heavily textured skin. These conditions may be due to sun damage, damaged capillaries, rosacea, or acne. BBL can also help to make the skin appear more youthful by igniting the regeneration of collagen. Depending on the type of modality and filter used for the treatment, BBL can be utilized as a therapy and/or daily maintenance for an array of skin issues. Prior to undergoing treatment, we will discuss how BBL technology can help achieve your aesthetic goals.
What is Forever Body™ BBL?
As one of the most advanced BroadBand Light Therapy platforms on the market, Forever Body BBL has proven time and time again to provide the results our patients desire. This remarkable device can offer permanent results virtually anywhere on the body with little to no pain or downtime. In just three short steps, Forever Body BBL is able to treat pigment, vascular conditions, and other visible signs of aging. In total, this technology can treat your entire face in just 12 – 15 minutes while creating results that can last for up to ten years.
How is Broadband Light Therapy Performed?
After customizing the appropriate treatment plan, the settings of the BBL or BBL HERO system will be adjusted to fit the needs of your skin. Before beginning the procedure, your eyes will be covered to protect them from the light of the laser. We will then lightly pass the laser over your skin while concentrating on the treatment locations. The amount of time necessary for your procedure will change, depending upon the issue being treated and if any other treatments were completed during the BBL procedure. BBL procedures can typically be finished in about an hour or less.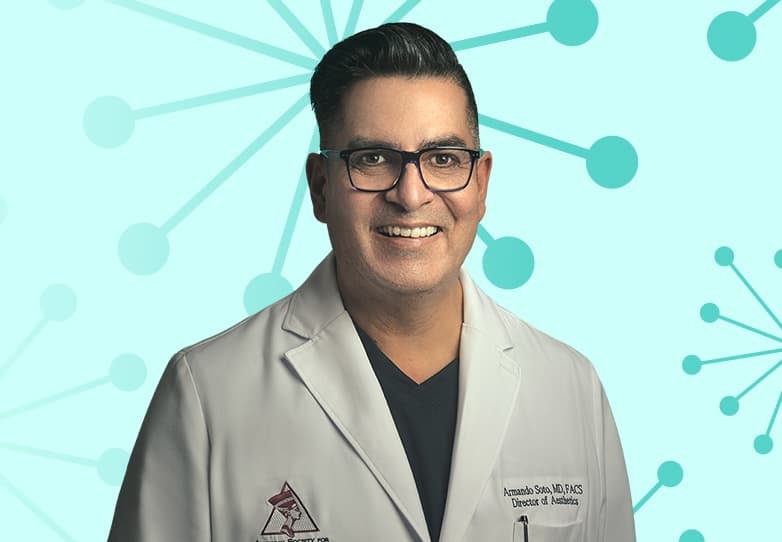 Dr. Armando Soto
Dr. Soto is a board-certified plastic surgeon who brings an exceptional level of attention, skill, and integrity to every patient and procedure. For more than 15 years, he has helped Orlando women and men look and feel fabulous using innovative yet proven surgical and nonsurgical options. As a well-respected plastic surgeon, Dr. Soto is a member of leading professional associations, including the American Society of Plastic Surgeons (ASPS) and The Aesthetic Society.
Meet Dr. Soto
Credentials You Can Trust

What to Expect After Broadband Light Therapy
Following the therapy, a soothing cream will be smoothed onto your skin. Dr. Soto will also provide post-treatment care directions and may advise reducing your sun exposure. Otherwise, patients are usually able to return to their regular daily routine. Outcomes from BBL can be noticed in 2 – 6 weeks following the first treatment, but optimal results will generally be observed after repeat BBL sessions. Dr. Soto will suggest the recommended number of procedures to receive your preferred outcome.
Love The Skin You Live In
BroadBand Light Therapy using BBL or BBL HERO technology can alleviate lingering insecurities you may have about your skin tone or texture. Reduce the appearance of your acne, freckles, sun spots, age spots, and more by taking full advantage of this innovative technology. Talk with Dr. Soto today to discuss the treatment, as well as any of your concerns, before deciding whether or not to move forward with the procedure.