Aesthetic Enhancements Plastic Surgery & Laser Center: Armando Soto, MD
7009 Dr Phillips Blvd #100
Orlando, FL 32819
Phone: (407) 218-4550
Fax: (407) 218-4551
Monday–Friday: 9 a.m.–5 p.m.

Gynecomastia (Male Breast Reduction)
Plan Your Procedure
Price Starting At:
$6,500
Average Procedure Time:
1-2 Hours
Post-op Follow-up:
3-4 Days
Recovery Location:
Outpatient
*Includes surgical, anesthesia, and OR fees, and post-surgical garments
In addition to other male body contouring procedures, Dr. Armando Soto performs male breast reduction in Orlando, FL, by removing breast tissue via liposuction. Gynecomastia—the overdevelopment of breast tissue—is a common condition that affects many men and adolescent boys. Imbalanced hormone levels often cause it due to puberty, medication, or other health conditions. Men in Winter Park and throughout central Florida who suffer from gynecomastia often feel embarrassed or self-conscious about their appearance. Male breast reduction allows them to reshape their chest and feel more comfortable and confident in their bodies.
After carefully considering and researching my options I knew Dr. Soto was the surgeon to help me get the shape I wanted. Dr. Soto and his excellent staff are true experts in their field. I couldn't be happier with my results.

– S.P.
Surgical Technique
Before surgery is recommended, Dr. Soto may refer you for testing or prescribe medications that can potentially improve the shape of the chest. If the breast enlargement persists, surgery is an option. Mild cases of gynecomastia can be corrected with CoolSculpting®, BodyTite, or liposuction, depending on your needs and goals.
Your Gynecomastia Surgery
Male breast reduction surgery uses general anesthesia and is performed in our accredited surgical facility. Surgery time can vary, depending on the amount of breast tissue removed, but most procedures take under 1 hour. During the procedure, Dr. Soto makes small incisions around the areola where suction tubes (cannulas) are inserted to extract fat and breast tissues. When the enlargement is severe, a longer incision is done to excise breast tissues and loose skin. Skin tightening may also be incorporated, and the nipples repositioned to be proportional to the new chest shape.
Gynecomastia Surgery Recovery & Results
Patients may have bruising and swelling around the chest area for the first couple of weeks. You must wear a compression garment for about 2 weeks to help with reshaping and healing. Most patients can return to their normal routine after a few days but must avoid any strenuous physical activities, especially those that put pressure on the chest. Results are generally satisfactory, with patients regaining their confidence in situations where their chests are bared.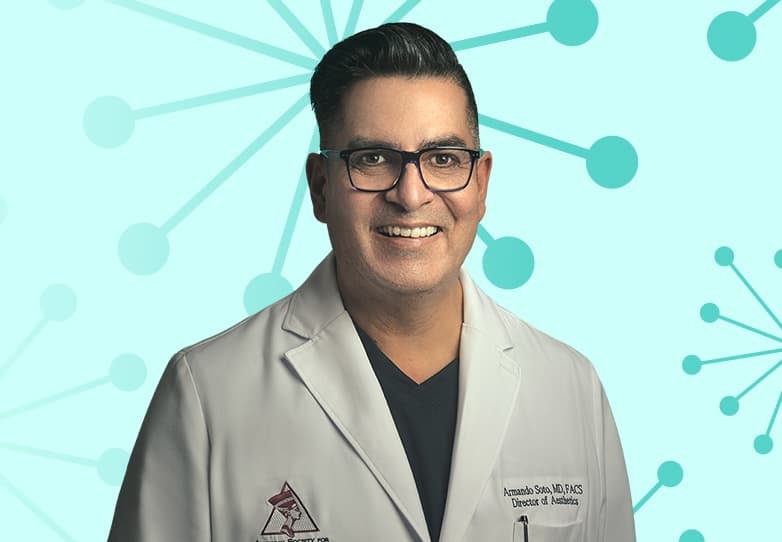 Dr. Armando Soto
Dr. Soto is a board-certified plastic surgeon who brings an exceptional level of attention, skill, and integrity to every patient and procedure. For more than 15 years, he has helped Orlando women and men look and feel fabulous using innovative yet proven surgical and nonsurgical options.
Meet Dr. Soto
Credentials You Can Trust

Gynecomastia FAQs
How do I know if I have gynecomastia?
Before seeking out male breast reduction surgery, it's important to see if you have false gynecomastia (also known as pseudogynecomastia). This is a condition where excess breast tissue is caused by fat deposits instead of breast tissue development. Dr. Soto will be able to determine this by physical examinations or lab tests during the initial consultation.
If it is a case of excessive fatty tissues on the chest, the approach in treatment is the same as when removing excess fat tissues in any part of the body. Proper diet and exercise are initially recommended before considering any surgical treatment. However, if the issue persists, liposuction may be performed to reshape the chest.
Will my chest muscles show better after surgery?
Gynecomastia, unfortunately, hides the normal chest muscles that lie underneath the layers of overdeveloped breast tissue. For those who have severe gynecomastia, it is even possible that the overgrowth of breast tissue has developed into internal scarring. With male breast reduction surgery, Dr. Soto will remove all excess fat and breast tissues, and the pectoralis muscles will be spared so that they can become more visible. With proper diet and exercise after the surgery, men can tone and strengthen their chest muscles to regain the chest's natural shape.
Is liposuction required during male breast reduction?
Liposuction is the most trusted way to extract fat or any soft tissues. Because it uses a small cannula to vacuum the fat out, it is a less invasive approach than excising the tissue, which requires longer incisions. There are liposuction options that are even less invasive. These options will be provided with more details before the surgical plan so the patient can consider all factors and ultimately decide which technique is preferred.
Will I have scars after surgery?
If the breast reduction technique uses liposuction, the incisions will be minimal and placed around or near the areola. Dr. Soto will make every effort to minimize your incisions and reduce the effects of scarring.
Request a Consultation
Male breast reduction is a way for Orlando, FL, men to reduce the signs of gynecomastia and reshape the chest into a more masculine appearance. If you would like to talk with Dr. Soto and learn more about the procedure, request a consultation online or call (407) 218-4550.
A Reputation Built on Results
Dr Soto and his staff exceeded all of my expectations. I felt cared for, listened to, and respected...
I can not say enough about how wonder Dr. Soto was in my breast lift and augmentation. As my first and...
My experience with Dr. Soto and his team was amazing. I was impressed by how fast I got an appointment...
Dr. Soto and his team are absolutely amazing. From the first day I walked in until present, everyone...