Aesthetic Enhancements Plastic Surgery & Laser Center: Armando Soto, MD
7009 Dr Phillips Blvd #100
Orlando, FL 32819
Phone: (407) 218-4550
Fax: (407) 218-4551
Monday–Friday: 9 a.m.–5 p.m.

JUVÉDERM® VOLUMA™
WHAT IS VOLUMA?
Plan Your Procedure
Price Starting At:
$850/syringe
Average Procedure Time:
30-40 Minutes
Post-op Follow-up:
No Follow Up Needed
Recovery Location:
Out-Patient
Board-certified Plastic Surgeon Dr. Armando Soto offers a wide variety of facial fillers to create the youthful appearance patients desire. Voluma is a popular filler among his patients because it significantly improves the fullness of the cheeks for a more youthful appearance. The results restore volume to aging or flat cheeks to improve the appearance of a tired or haggard facial contour. Voluma is also frequently used in place of implants during a cheek augmentation for those who have naturally flat or deflated cheeks. At Aesthetic Enhancements Plastic Surgery in Orlando, Dr. Soto will be able to discuss all the benefits of Voluma during every patient's private consultation.
What to Expect During Voluma Injections
Voluma is injected into the skin with fine needles, so some patients may experience some minor pain from the initial prick. Numbing creams may be applied on the injection site to ease the patient's discomfort. Patients also have the option to use lidocaine, which is mixed with the Voluma solution, to help provide anesthetic effects in and around the area. A treatment may last up to 30 minutes. Patients will be able to return to daily activities after several hours. There may be some swelling, discoloration and tenderness around the cheeks, but will subside after a few days. Results are readily evident, and can last up to 2 years.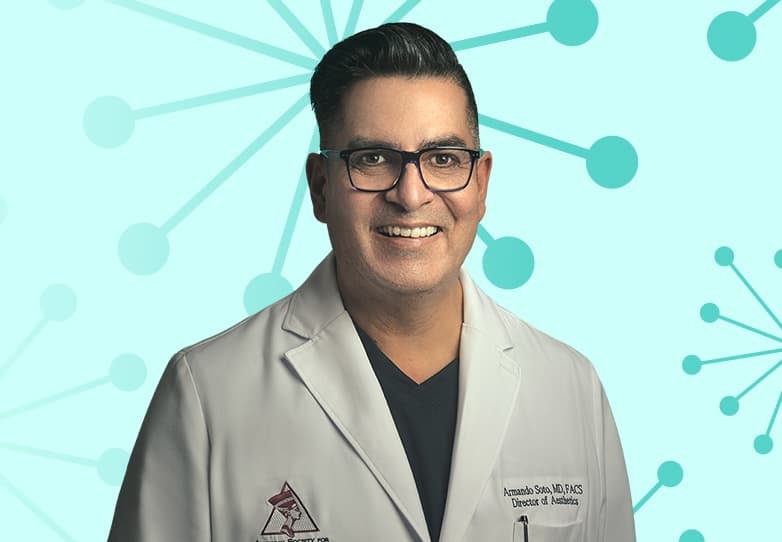 Dr. Armando Soto
Dr. Soto is a board-certified plastic surgeon who brings an exceptional level of attention, skill, and integrity to every patient and procedure. For more than 15 years, he has helped Orlando women and men look and feel fabulous using innovative yet proven surgical and nonsurgical options.
Meet Dr. Soto
Credentials You Can Trust

Voluma FAQ
Is Hyaluronic Acid Natural?
Hyaluronic acid, Voluma's main ingredient, is derived from natural substances found in the human body. Its main function is cell hydration, and with its cross-linking abilities, it is generally useful in helping facial areas that lack volume. Over time, the gel substance breaks down and is absorbed naturally by the body without any side effects.
Who Is An Ideal Candidate For Voluma?
Those who seek improved volume in the cheeks may consider Voluma as a noninvasive solution. The lack of cheek volume may be due to aging or the patient's natural facial structure. The doctor will be able to recommend if Voluma is the best option during the initial consultation.
How Long is Recovery From Voluma?
Right after treatment, patients will be able to resume to their normal routine with restriction on strenuous activities or any movement that may put pressure on the treated area. It may take up to 1 week before the derma filler settles within the cheek pockets.
Among derma fillers available in the market today, Voluma can last up to 2 years or longer. Reinjection varies as patients' bodies process and break down hyaluronic acid at different rates.