Aesthetic Enhancements Plastic Surgery & Laser Center: Armando Soto, MD
7009 Dr Phillips Blvd #100
Orlando, FL 32819
Phone: (407) 218-4550
Fax: (407) 218-4551
Monday–Friday: 9 a.m.–5 p.m.

Morpheus8 RF Microneedling
Morpheus8 RF Microneedling
Plan Your Procedure
Price Starting At:
$1,500
Average Procedure Time:
1-2 Hours
Post-op Follow-up:
4-6 Weeks
Dr. Armando Soto offers Morpheus8 RF microneedling to help Orlando patients rejuvenate their skin and create a youthful glow. This treatment combines the benefits of radiofrequency and microneedling, and can improve the surface of the skin, helping reduce signs of aging and skin irregularities.
I had experienced bad acne in college and was left with scarring. Dr. Soto is fabulous! He has changed my life! Over the years he has used many methods: laser, skin pen, and the Morpheus. And now I am no longer afraid to go in public without makeup. I am so much more confident!

-L.A.
RF Microneedling

Before & After Photos
What Is Morpheus8 RF Microneedling?
Microneedling is a procedure that uses tiny needles to gently puncture the surface of the skin, which initiates a healing process and skin renewal. Microneedling blended with radiofrequency energy works to improve both the skin's surface and its overall tone. It utilizes heat to stimulate the creation of collagen deep within the skin to reveal a firmer, smoother complexion.
Ideal RF Microneedling Candidates
If you're 40 years old or older and are beginning to notice discoloration, smile lines, age spots, and other skin problems, RF microneedling might be the perfect treatment for you. RF microneedling is a great option if you want to:
Firm your skin, creating a more refreshed look
Enhance skin feel, pigment, and tone
Resolve skin imperfections, such as discoloration and blood vessels
Reduce the appearance of sun damage and age spots
Treat acne scars and other forms of discoloration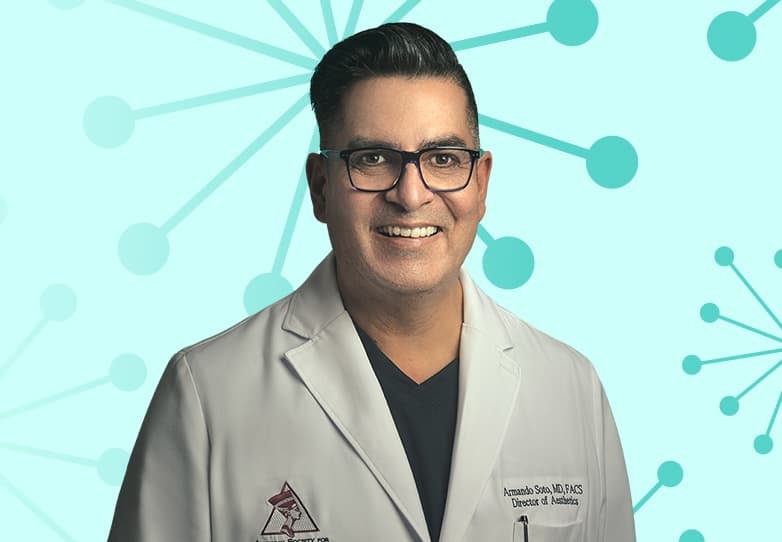 Dr. Armando Soto
Dr. Soto is a board-certified plastic surgeon who brings an exceptional level of attention, skill, and integrity to every patient and procedure. For more than 15 years, he has helped Orlando women and men look and feel fabulous using innovative yet proven surgical and nonsurgical options. As a well-respected plastic surgeon, Dr. Soto is a member of leading professional associations, including the American Society of Plastic Surgeons (ASPS) and The Aesthetic Society.
Meet Dr. Soto
Credentials You Can Trust

Your Morpheus8 Microneedling Procedure
Your RF microneedling session will be performed in our Orlando, FL, facility. We first apply a numbing solution to minimize any discomfort. During your procedure, the handpiece will glide over the desired treatment areas, making micro-injuries that "interrupt" the tissues and stimulate the production of collagen. New skin grows as the skin begins to heal, leaving the surface looking and feeling brighter, smoother, and more refreshed. Although this process is usually done on its own, combining this innovative method with radiofrequency has enabled us to maximize our results.
RF Microneedling Recovery & Results
Patients should anticipate tiny, pinpoint scabs to become pronounced 24 to 72 hours afterward, which will naturally disappear when the treated skin has healed. Outcomes become noticeable as skin heals over about a month after having a microneedling with RF procedure. Optimal results generally necessitate 3 to 4 treatments one month apart.
RF Microneedling FAQs
What areas can be treated with RF microneedling?
Morpheus8 can be used on any areas that can benefit from sub-dermal renewal. The most commonly treated areas include the lower face and neck. Areas of the face and body that exhibit wrinkles, discoloration, or acne scarring are also suitable for treatment.
How many RF microneedling treatments will I need?
Depending on your Morpheus8 treatment regimen, you can expect to have between 1 to 3 sessions. Each patient is unique, and some individuals may need more treatments than others. Dr. Soto will take his time to perform a thorough assessment to help determine the appropriate number of sessions for you.
What are the benefits of RF microneedling?
RF microneedling is safe and effective for most skin types and can be used on almost any area of the face or body. This laser treatment offers minimal downtime compared to a surgical facelift or body lift, and produces excellent results (although more subtle than surgery). RF microneedling is also a great option if you want to refresh the overall appearance of your skin.
Can I customize my RF microneedling treatment?
Dr. Soto will create a custom treatment plan for you after your initial consultation. He understands that every patient is different and will take the necessary time to listen to your specific concerns to help you achieve your cosmetic goals safely and effectively.
What post-treatment care is needed after my session?
You should moisturize the treatment area and avoid direct sun exposure. It is also recommended that you use a good, broad-spectrum sunscreen every day. In addition to reducing their future risk of skin cancer, sunscreens also help delay wrinkles and slow the aging process.
Request a Consultation
Aesthetic Enhancements Plastic Surgery is happy to provide innovative RF microneedling treatments at our Orlando, FL, practice. If you would like to talk with Dr. Soto about your skin rejuvenation options, or call (407) 218-4550.