Aesthetic Enhancements Plastic Surgery & Laser Center: Armando Soto, MD
7009 Dr Phillips Blvd #100
Orlando, FL 32819
Phone: (407) 218-4550
Fax: (407) 218-4551
Monday–Friday: 9 a.m.–5 p.m.

Semaglutide for Weight Loss
Semaglutide for Weight Loss
If you think you've tried everything—diets, exercise, personal trainers—and still struggle with your weight, board-certified plastic surgeon Dr. Armando Soto has an effective, medically directed solution. At Aesthetic Enhancements Plastic Surgery, our medical weight loss program involves weekly treatments with semaglutide or tirzepatide administered in our Orlando, FL, clinic. Are you ready to improve your health and confidence by making noticeable, consistent progress toward your weight loss goals?
What Is Semaglutide?
Semaglutide is an injectable prescription medication originally used to help people with diabetes control their blood sugar. It is a GLP-1 receptor agonist that mimics a hormone called glucagon-like peptide-1 (GLP-1), which manages appetite and regulates blood sugar by controlling the production of insulin and glucagon.
What Is Tirzepatide?
Tirzepatide is a newer, more powerful GLP-1 receptor agonist than semaglutide. In addition to targeting GLP-1, tirzepatide targets another hormone involved in regulating blood sugar levels called glucose-dependent insulinotropic polypeptide (GIP) to improve the function of GLP-1.
How Do These Drugs Help You Lose Weight?
Semaglutide and tirzepatide injections work in similar ways to help patients lose weight, which include:
Controlling appetite
Regulating blood sugar
Slowing stomach emptying, so you feel full longer
Increasing insulin production
Inhibiting glucagon production
How Does the Medical Weight Loss Program Work?
At Aesthetic Enhancements Plastic Surgery, our program begins with a personal consultation with a nurse practitioner who will:
Ask you about your goals
Review your medical history
Provide you with a prescription for lab work
Record your weight
Go over the program and determine which medication is best for you
When we receive your results, a nurse practitioner will review them with you at our office. She will explain your customized weight loss program, give you time to ask questions, and perform your first injection. You will begin with a low dose of medication that will gradually be increased to minimize side effects.
You will return once a week to meet with a nurse practitioner who will perform the following:
Inquire about any side effects
Perform your injection
Track your weight loss
Adjust your dosage if needed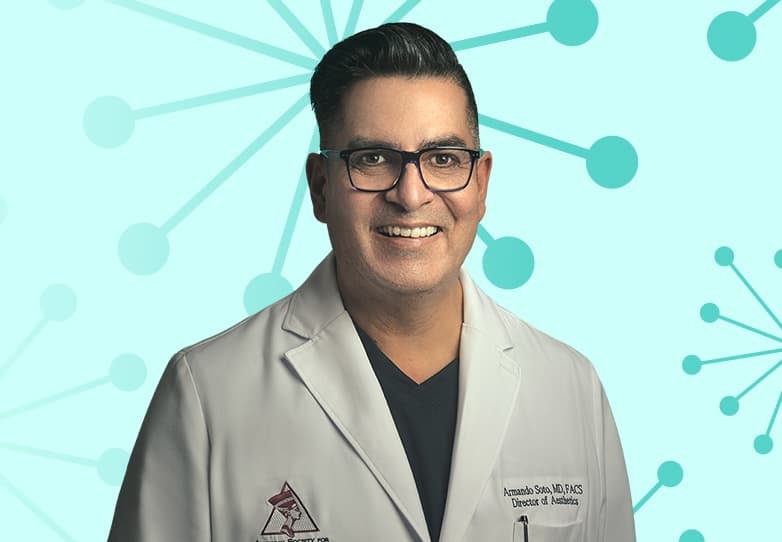 Dr. Armando Soto
Dr. Soto is a board-certified plastic surgeon who brings an exceptional level of attention, skill, and integrity to every patient and procedure. For more than 15 years, he has helped Orlando women and men look and feel fabulous using innovative yet proven surgical and nonsurgical options. As a well-respected plastic surgeon, Dr. Soto is a member of leading professional associations, including the American Society of Plastic Surgeons (ASPS) and The Aesthetic Society.
Meet Dr. Soto
Credentials You Can Trust

Am I a Candidate?
Good candidates for semaglutide and tirzepatide are overweight or obese adults who meet specific criteria, which include:
Having or being at risk for one or more weight-related conditions, such as high blood pressure, type 2 diabetes, or high cholesterol.
Not being pregnant, planning to become pregnant, or breastfeeding.
Willing to commit to weekly visits to our office.
Which One Should I Take: Tirzepatide or Semaglutide?
We recommend starting with semaglutide because it is more affordable and usually effective for most patients. If your weight loss plateaus or you don't reach your goal, we may recommend switching to tirzepatide.
What Are the Potential Side Effects of Semaglutide and Tirzepatide?
The potential side effects of these drugs include nausea, diarrhea, vomiting, constipation, indigestion, and stomach pain. These side effects typically fade as the body adjusts to the drug. 
Body Contouring Treatments To Enhance Your Results
Once you close in on your goal weight, you might consider improving your contours with one or more of the following procedures:
Nonsurgical Options
Surgical Options
Request Your Consultation
Aesthetic Enhancements Plastic Surgery is happy to provide the most up-to-date weight loss treatments, such as semaglutide and tirzepatide, at our Orlando, FL, practice. To learn more, request a consultation online or call (407) 218-4550 for an appointment.