Aesthetic Enhancements Plastic Surgery & Laser Center: Armando Soto, MD
7009 Dr Phillips Blvd #100
Orlando, FL 32819
Phone: (407) 218-4550
Fax: (407) 218-4551
Monday–Friday: 9 a.m.–5 p.m.

Liposuction
Plan Your Procedure
Price Starting At:
$5,000
Average Procedure Time:
1-4 Hours
Post-op Follow-up:
3-4 Days
Recovery Location:
Out-Patient
*Includes surgical, anesthesia, and OR fees, and post-surgical garments
As an expert, experienced body contouring surgeon, Dr. Soto has helped many men and women achieve a more attractive yet natural appearance through liposuction. During a basic liposuction procedure at his Orlando practice, Dr. Soto injects a fat-hydrating solution into the body which maximizes the fatty tissue to instrument interaction, therefore minimizing trauma to surrounding structures such as nerves, blood vessels, and muscle tissues, and maximizing the amount of fat possible to safely remove. Women and men from Winter Park, Kissimmee, and throughout central Florida with pockets of localized excess fatty tissue in the abdomen, thighs, arms, back, and under the chin choose Dr. Soto. He utilizes the most up-to-date technology and instruments and has found that the best outcome for many patients is achieved through a highly customized technique in which several modalities are applied.
This customization of the plan and procedure is based on careful communication at your consultation and Dr. Soto's detailed physical examination and understanding of your goals and what is causing your concerns. The overall goal is to help patients safely achieve a more attractive contour, however, this procedure should not be used as a weight loss solution. Ideal candidates should already be at or near their goal weight and have a BMI (body mass index) of less than 30.
Surgical Technique
Tumescent "Super-Wet"
Tumescent liposuction, known as the "Super-Wet" approach, is a suction-assisted (SAL) technique that uses a solution and power-aided motor to help remove stubborn fat. Dr. Soto uses specialized instruments to inject a solution of epinephrine (adrenaline) diluted in saline into the fatty tissue to be treated. This minimizes blood loss and expands the fatty tissue layer, making it easier to remove the problematic fat while minimizing the risks of injury to other structures and tissues. The next step is where Dr. Soto's experience, skill, and eye for beauty will benefit you- as he uses specialized cannulas to remove fat in a sculpting fashion to achieve the most attractive and natural shape possible for your body.
Ultrasound-Assisted (UAL)
Depending on your goals, the area of the body to be treated, and the details of your anatomy as seen on your examination with Dr. Soto, he may recommend VASER liposuction for you, either alone, or in combination with other techniques such as Bodytite or tumescent technique. The VASER platform uses ultrasound energy to disrupt fat cells in a highly selective fashion, meaning that the energy causes this disruption of fat cells well before it affects blood vessels, nerves, connective tissue, or muscle tissue. This makes it a very effective and safe technique, especially in scarred areas or in men, who tend to have more fibrous and tough fat that is more difficult to remove through more traditional liposuction techniques. This selectivity for fat is also why Dr. Soto strongly believes VASER is a much better option than liposuction techniques involving lasers, which are not specific in any way for fat. As with any advanced technology, however, it is important to remember that the quality of the outcomes possible, as well as the safety profile of the technique, will depend highly on the skill and experience of the surgeon handling the instrument in your procedure. Dr. Soto is proud to have been the first plastic surgeon in Central Florida to offer the VASER technique and has performed VASER liposuction on all areas of the body.
Laser-Assisted (LAL)
Laser-assisted liposuction uses laser technology on specified areas of fat to burst energy that will loosen and liquefy the fat for removal. LAL liposuction includes brands such as SmartLipo, SlimLipo, Lipolite Laser Liposculpture, LipoLite, and ProLipo PLUS.
During/After Surgery
Liposuction is an outpatient procedure most often performed under general anesthesia our nationally certified and accredited surgery center in Orlando. The procedure lasts about 30 minutes for each body part, depending on the technique and whether or not other modalities are being brought to bear. It can be a stand-alone surgery or combined with other procedures. After surgery, patients are required to wear a compression garment to help the body adjust to its new shape and minimize swelling. Bruising and swelling will largely subside within a few weeks, but you will not see final results for several months. Liposuction does leave small scars, but these are placed in well hidden areas and fade nicely over time.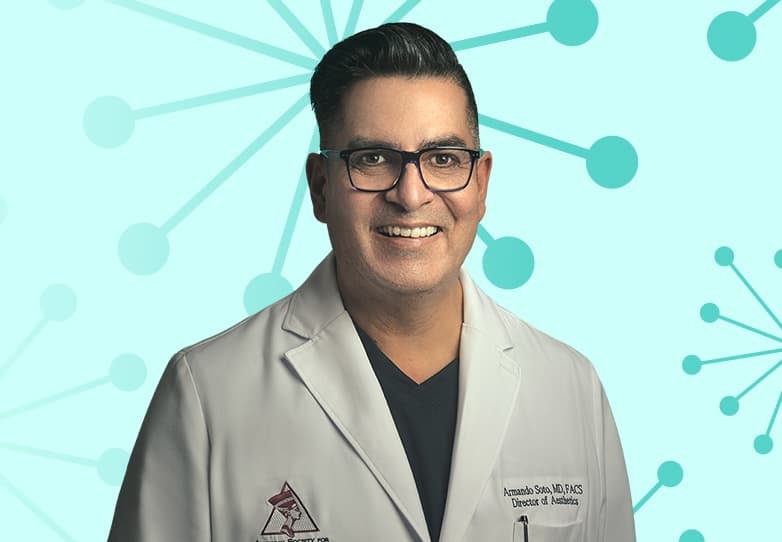 Dr. Armando Soto
Dr. Soto is a board-certified plastic surgeon who brings an exceptional level of attention, skill, and integrity to every patient and procedure. For more than 15 years, he has helped Orlando women and men look and feel fabulous using innovative yet proven surgical and nonsurgical options. As a well-respected plastic surgeon, Dr. Soto is a member of leading professional associations, including the American Society of Plastic Surgeons (ASPS) and The Aesthetic Society.
Meet Dr. Soto
Credentials You Can Trust

Liposuction FAQS
Is It Safe?
In the right hands, liposuction is among the most safe procedures performed in all of plastic surgery, but patients can experience poor results and serious complications when performed by inexperienced surgeons or those not properly trained. It is important for patients to do their research, and find an experienced surgeon like Dr. Soto that can help them achieve the best, most natural-looking results.
Permanent Results?
The results of liposuction can be seen for many years following surgery if the patient follows a healthy diet and exercise program. Removed fat cells do not come back, but patients can still gain weight in other areas if their remaining fat cells grow.
Too Much Fat?
Yes, it is possible to remove too much fat- this is a matter of safety. The American Society of Plastic Surgeons does not recommend removing more than 3-4 liters of fat for the safety of the patient. Removing more than this is considered high-volume liposuction, which increases the chances of complications from the surgery, and will require you to spend the night in the hospital. Liposuction is best thought of as a procedure performed to refine the body's shape- it is not effective, safe or appropriate to perform liposuction as a means of weight loss. All patients are advised to be near or at their ideal weight before undergoing liposuction.
Skin Tightening?
While liposuction removes fat and improves contour and shape, it does not address sagging or drooping skin. Patients with mild skin laxity can benefit from combining liposuction with Renuvion®, a minimally invasive treatment that uses radiofrequency (RF) energy and helium to contract skin immediately and stimulate new collagen production for long-lasting results. If your skin laxity is more pronounced, you can talk to the surgeon during the consultation to discuss their options for improving skin texture, such as a tummy tuck, thigh, neck, arm, or butt lift.