Aesthetic Enhancements Plastic Surgery & Laser Center: Armando Soto, MD
7009 Dr Phillips Blvd #100
Orlando, FL 32819
Phone: (407) 218-4550
Fax: (407) 218-4551
Monday–Friday: 9 a.m.–5 p.m.

Tummy Tuck
Plan Your Procedure
Price Starting At:
$9,500
Average Procedure Time:
3-4 Hours
Post-op Follow-up:
3-4 Days
Recovery Location:
Outpatient
*Includes surgical, anesthesia, and OR fees, and post-surgical garments
Women and men are often left with excess skin, a bulging tummy, and residual fat after pregnancy or major weight loss. This can be discouraging, especially after working hard to get your body back into shape. Dr. Soto specializes in the surgical solution to these concerns: a full or mini tummy tuck. At his practice in Orlando near Winter Park, he performs tummy tuck surgery to remove excess skin, bulges, and fat that cannot be eliminated by diet and exercise alone. As a board-certified plastic surgeon, Dr. Soto uses the latest techniques and advanced technology to help men and women create the toned, firm midsection they're looking for.  
I dreamed of having a flat tummy for years. I decided to see Dr. Soto due to his exceptional reputation. His professionalism and kindness were outstanding. I was able to have my tummy tuck and my results surpassed by far my expectations. I have such a tiny waist and my tummy is so flat, I love it! Thank you is just not enough. You and your gracious staff have changed my life.

– K.S.
Surgical Technique
Tummy tuck surgery can be performed in a variety of ways depending on the patient's particular needs. Here are 3 popular options we offer to men and women in the Orlando area.  
Full Tummy Tuck
A full tummy tuck begins with a hip-to-hip incision just above the pubic area. This results in a scar line that gently curves with the body and can be hidden when wearing most undergarments and two-piece bathing suits. This treatment is commonly performed on women with skin folds or muscular laxity (called rectus diastasis) after multiple pregnancies. It is also often the technique of choice for patients who have undergone significant weight loss.  
The full tummy tuck gives Dr. Soto access to a large portion of the abdomen, allowing him to remove excess skin, repair muscular anatomy, and eliminate excess fat. Liposuction may be used to add the "finishing touches" to your silhouette.  
Mini Tummy Tuck
An alternative to the traditional technique is the mini tummy tuck, which is also known as a "Brazilian tummy tuck." A mini tummy tuck is best for those already in relatively good shape with a healthy skin tone, but who still have loose skin on the abdomen below the bellybutton. Unlike the full tummy tuck, the bellybutton is unaffected by the procedure and the incision is slightly smaller. Liposuction can be added to remove excess fat, and the loose skin is removed and pulled tight.  
It is important to note that very few patients are candidates for this procedure, because most people who have laxity in the abdominal area experience the problem over the entire abdomen, making the mini tummy tuck ineffective. Dr. Soto will analyze your body and see if a mini tummy tuck would be right for you. 
Extended Tummy Tuck
In cases when major skin tightening and body contouring are needed, Dr. Soto may recommend an extended tummy tuck. This is a useful technique for patients who have undergone a significant weight loss or want an alternative to a lower body lift. The extended tummy tuck was developed after some patients noted that parts surrounding the abdomen still showed excessive folds of skin even after their traditional tummy tuck procedure.  
Dr. Soto trims and tightens excess skin during treatment, and liposuction can be added for further fat reduction. Similar to a full tummy tuck, the bellybutton is restored to a youthful appearance and can be adjusted into an aesthetically pleasing shape. 
Your Tummy Tuck Procedure
During your consultation at Aesthetic Enhancements Plastic Surgery, Dr. Soto will review your goals with you and perform a careful examination. He will discuss all the differences and benefits of your available options. The ultimate goal is to safely achieve an attractive new contour that appears natural and not "operated on."
A tummy tuck is performed under general anesthesia as an outpatient procedure. Occasionally, an overnight stay may be required for more complex cases. As with any other surgery, a tummy tuck involves risks that are affected by your state of health. It's best to discuss any health conditions you have with Dr. Soto  prior to surgery.  
Tummy Tuck Recovery & Results
After surgery, you will be prescribed pain medication and you will have to wear a compression garment. Very early after surgery, it is recommended that patients make a concerted effort to move around to improve blood circulation and reduce the risks of blood clot complications. Full recovery may take up to 6 weeks, although you can see your body's shape gradually changing within a few days of surgery.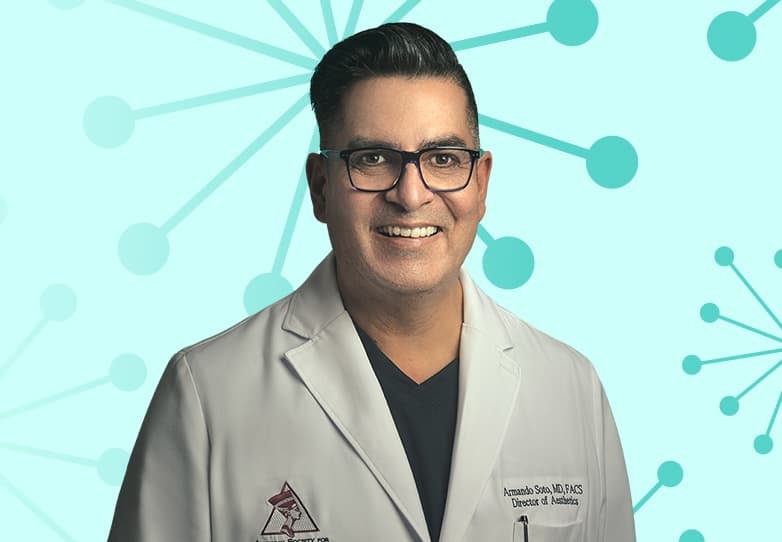 Dr. Armando Soto
Dr. Soto is a board-certified plastic surgeon who brings an exceptional level of attention, skill, and integrity to every patient and procedure. For more than 15 years, he has helped Orlando women and men look and feel fabulous using innovative yet proven surgical and nonsurgical options.
Meet Dr. Soto
Credentials You Can Trust

Tummy Tuck FAQs
How do I know if I need liposuction or a tummy tuck?
Tummy tucks are usually reserved for patients who have stretched, loose skin in the lower abdomen as a result of pregnancy or obesity. Liposuction, on the other hand, is best for those who want to remove excess fat in the abdomen but still have a healthy skin tone and muscles that have not been stretched apart. During the initial consultation, Dr. Soto will provide a thorough assessment and determine if liposuction alone is all that is needed, or if a tummy tuck will provide the best results.  
Can you combine a tummy tuck with other plastic surgery procedures?
Normally, abdominoplasty is performed to remove loose skin and excess fat around the abdominal area. However, sometimes other cosmetic procedures (such as breast augmentation or a breast lift) are done to further improve the overall look and feel of the body. When this combination type surgery exists, it is known as a "mommy makeover." It is very popular among women after pregnancy who wish to regain their pre-baby look and get their body shape back to normal. 
How bad are scars after tummy tuck surgery?
As with any surgical procedure, scars are unavoidable. However, extra measures are taken to make sure that scarring is minimal, and the incision line is placed in areas that can be concealed by undergarments. Previous C-section scars will be removed and replaced by the tummy tuck scar, which will be lower in placement. During the healing process, we will provide a post-operative protocol that includes scar treatment to help assist the scars in becoming less visible over time.   
Is pregnancy safe after a tummy tuck?
Tummy tuck surgery will have no impact on your ability to become pregnant. However, we recommend that women who decide to have more children delay a tummy tuck procedure until their family is complete. The stretching of the skin as a result of another pregnancy can reduce the positive outcome of this procedure. 
Do I need to be near my ideal weight before surgery?
A tummy tuck is not weight loss surgery. That's why Dr. Soto recommends that patients are close to the weight they want to maintain before tummy tuck surgery. For most patients, it is ideal to be within 10 to 15 pounds of their goal weight. If your weight fluctuates significantly after surgery, it can compromise the results.
How many dress sizes will I lose?
Even though a tummy tuck isn't weight loss surgery, you can expect to see your newly contoured body fit into smaller dress sizes. The specific number of sizes lost varies from patient to patient, but it's usually between 1 to 3 sizes.
Request Your Consultation
If you struggle with excess skin and fat, Dr. Soto can help you tone and contour your midsection. To learn more about tummy tuck surgery in the Orlando, FL, area, request a consultation online or call (407) 218-4550.
A Reputation Built on Results
Dr Soto and his staff exceeded all of my expectations. I felt cared for, listened to, and respected...
I can not say enough about how wonder Dr. Soto was in my breast lift and augmentation. As my first and...
My experience with Dr. Soto and his team was amazing. I was impressed by how fast I got an appointment...
Dr. Soto and his team are absolutely amazing. From the first day I walked in until present, everyone...