Aesthetic Enhancements Plastic Surgery & Laser Center: Armando Soto, MD
7009 Dr Phillips Blvd #100
Orlando, FL 32819
Phone: (407) 218-4550
Fax: (407) 218-4551
Monday–Friday: 9 a.m.–5 p.m.

FaceTite
Plan Your Procedure
Price Starting At:
$5,000
Average Procedure Time:
1-2 Hours
Post-op Follow-up:
3-4 Days
*Includes surgical, anesthesia, and OR fees, and post-surgical garments
Aging or weight loss can result in sagging along the lower face and neck. Dr. Armando Soto offers FaceTite in Orlando for patients from Winter Park, Kissimmee, and throughout central Florida to help slim and firm these areas. FaceTite utilizes radiofrequency energy, delivered both above and below the skin and tissues, to eliminate fat and tighten skin without scars. It is often combined with Morpheus8 treatment to comprise the Embrace procedure. The improvement most patients see through this minimally invasive office procedure was previously only possible through surgery such as a facelift.
After meeting with Dr. Soto and his staff I trust them with my life! Their knowledge and years of experience was very comforting and immediately put me at ease! Dr. Soto is phenomenal at his profession and I will only see him for the rest of my life. He is amazing and I am ecstatic with the work he has done! I could not be happier.

– Anonymous, Vitals.com
Your FaceTite Procedure
FaceTite is performed with the patient under local anesthesia, with nitrous oxide (laughing gas), or light oral sedation. Before your FaceTite procedure, Dr. Soto will mark the area(s) to be treated and the anesthetic will be administered. A specialized handheld device is used to deliver radiofrequency energy above and below the skin. This RFAL energy helps suction out fatty tissues while also stimulating collagen production in the skin. When performed as part of the Embrace procedure, it will take 45 minutes to an hour.
Adding AccuTite
More delicate areas of the face require more precision than can be delivered with the FaceTite handpiece. For areas such as the nasolabial folds and around the eyes, Dr. Soto recommends AccuTite. Using the same radiofrequency technology as FaceTite, AccuTite is simply smaller and allows for more direct treatment in specific, hard-to-reach areas. During your pre-procedure planning process, our team will assess each of your treatment areas to determine whether AccuTite or FaceTite should be used.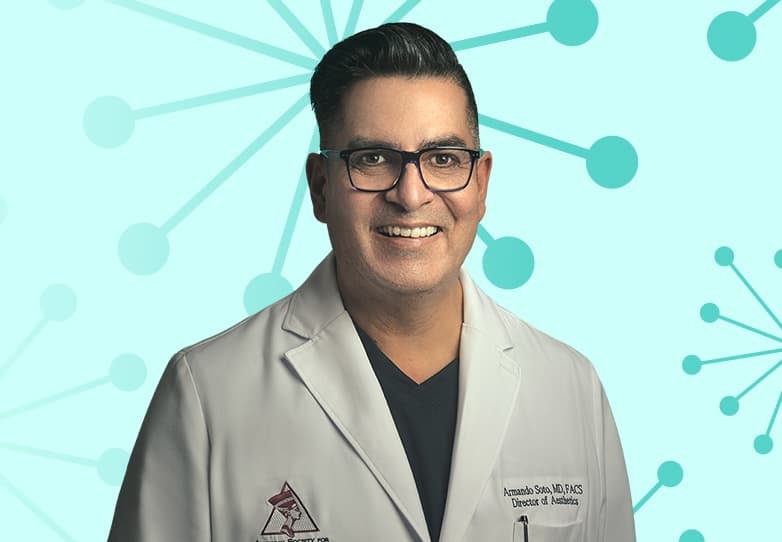 Dr. Armando Soto
Dr. Soto is a board-certified plastic surgeon who brings an exceptional level of attention, skill, and integrity to every patient and procedure. For more than 15 years, he has helped Orlando women and men look and feel fabulous using innovative yet proven surgical and nonsurgical options. As a well-respected plastic surgeon, Dr. Soto is a member of leading professional associations, including the American Society of Plastic Surgeons (ASPS) and The Aesthetic Society.
Meet Dr. Soto
Credentials You Can Trust

FaceTite Recovery & Results
Most patients experience minimal swelling, minimal to no bruising, and mild tenderness in the treated areas for a few days to a week. Most patients return to normal social activities after 48 hours. You will see improvement almost immediately, but you can also enjoy a longer-term increase in collagen and elastin production. Your skin tightening results will continue to improve and progress over the next 6 to 12 months. Our research and experience have shown a dramatic skin tightening improvement of up to 40%.
There is minimal recovery and patients are usually able to return to work the next day, although the use of a support garment is required for the first few days. Some improvement is seen immediately, but tightening will continue to progress for many months as more collagen and elastin are produced in response to treatment.
After your treatment has been completed, your skin will be cleansed and you will be placed in the appropriate support garment that must be worn consistently the first few days. Dr. Soto will advise you based on your treatment and tissue composition.
Frequently Asked Questions
How much does FaceTite cost?
In the Orlando, FL, area, treatment costs will vary according to total treatment time, the type of anesthesia used, and whether or not the procedure is combined with other treatments. During your consultation, Dr. Soto will give you a personalized quote.
Is FaceTite an alternative to facelift surgery?
For some patients, FaceTite can be an excellent facelift alternative and remove the need for long scars and other surgical expenses. For other patients, FaceTite results may not be quite as dramatic or smooth as a full facelift, but they prefer to avoid traditional surgery.
Who performs FaceTite procedures at your office?
Dr. Soto personally performs all FaceTite and BodyTite procedures at our Orlando practice.
Can I combine other procedures with my FaceTite treatment?
Absolutely. Nonsurgical treatments such as BOTOX® or dermal fillers can be used to enhance your results. During your consultation, Dr. Soto will go over your treatment options and help you form a personalized beauty plan.
Request Your Consultation
FaceTite is a minimally invasive way to smooth wrinkles, reduce fat, and tighten loose skin along the lower face and neck. If you're in the Orlando, FL, area and would like to learn more about treatment, request a consultation online or call (407) 218-4550.
A Reputation Built on Results
Dr. Soto is amazing!!! I got a breast augmentation with him and I love the results so much. I've never...
My experience was great! The staff are amazing!! They made me feel so comfortable and we're always available...
I recently had a breast augmentation performed by the talented Dr. Soto, and I couldn't be happier with...