Aesthetic Enhancements Plastic Surgery & Laser Center: Armando Soto, MD
7009 Dr Phillips Blvd #100
Orlando, FL 32819
Phone: (407) 218-4550
Fax: (407) 218-4551
Monday–Friday: 9 a.m.–5 p.m.

Eyelid Surgery
Plan Your Procedure
Price Starting At:
$3,000
Average Procedure Time:
1-2 Hours
Post-op Follow-up:
3-4 Days
Recovery Location:
Outpatient
*Includes surgical, anesthesia, and OR fees, and post-surgical garments
Whether due to the aging process or genetics, many people have excess upper eyelid tissue or a loss of volume or bags under the lower eyelid. Eyelid surgery or eyelid lift is a procedure that tightens tissues and removes excess skin to create a youthful and refreshed look. Board-certified plastic surgeon Dr. Armando Soto performs eyelid surgery, also known as blepharoplasty at his Orlando practice to correct droopy or puffy eyelids. Men and women from Winter Park, Kissimmee, and throughout central Florida choose Dr. Soto for eyelid surgery because he offers the best and most effective treatment plan customized to your specific aesthetic needs.
Now at 56 years old, I only wish I had found Dr. Soto sooner! Not only does Dr. Soto's work speak for itself, but one consultation with him and you will understand why he has such a great reputation. His incredible professionalism, compassion and comprehensive care or his patients sets him apart from the rest. He took the time during each visit to answer all of my questions and helped me to make the best decision for my body each time.

– Anonymous, RateMDs
Surgical Technique
The procedure may either be performed on the upper eyelid only, the lower lid, or both. There will be a difference in approaches when it comes to the upper and lower eyelids but the method is similar; removing any loose skin or tissue, and extracting or repositioning the fat deposit. There will also be separate incisions spots. It is important to understand that this will not help with other cosmetic issues such as crow's feet, wrinkles, or dark circles. The results of eyelid surgery are fairly isolated within the upper and lower lid section only. There are other procedures that can be combined, for example, the use of BOTOX®, to create a maximized outcome.
Upper Eyelid Surgery
The most common problem with the upper eyelid is excess skin that droops and hangs over the eyes. Not only does this look unappealing, but it can also obstruct vision for a patient. The doctor will create an incision along the natural fold of the eyelid and extract any excess fat and tissue to remove any bulges. Once done, excess skin will also be trimmed and the cut will be closed with fine sutures. There are cases when fat tissues are only repositioned instead of excised.
Lower Eyelid Surgery
There are two options for incisions when it comes to lower eyelid surgery. This treatment will improve any appearance of bulging and sagging below the eye. Incisions may be made just slightly below the lash line and excess fat, tissue, or skin will be excised. If the skin has retained good elasticity, a transconjunctival incision may be a better option as the cut is made inside the lower eyelid, which effectively makes any resulting scar concealed. A lower lid lift does not necessarily improve the dark circles that may occur under the eyes. The surgeon may recommend combining a lower blepharoplasty with another procedure such as a chemical peel or an injectable filler such as Restylane®.
Your Eyelid Surgery Procedure
Eyelid surgery is performed with general anesthesia. If the procedure involves both upper and lower eyelids, the plastic surgeon will typically manage the upper eyelid first. On average, it takes 1 to 2 hours to complete the operation. The patient will be sent home for recovery.
Eyelid Surgery Recovery & Results
For the first few days, there will be swelling and discoloration around the area. It is advised that the head is elevated for the first few days. Pain medications and antibiotics will be prescribed to manage the initial discomfort. Strenuous activities must also be restricted.
Complications and irritations after surgery are rare. Patients must strictly adhere to care instructions prescribed by the surgeon to minimize any risks of infection as the eyes can be sensitive after surgery. Patients must always take precautions to protect their eyes from the sun and wind during the first few weeks of recovery.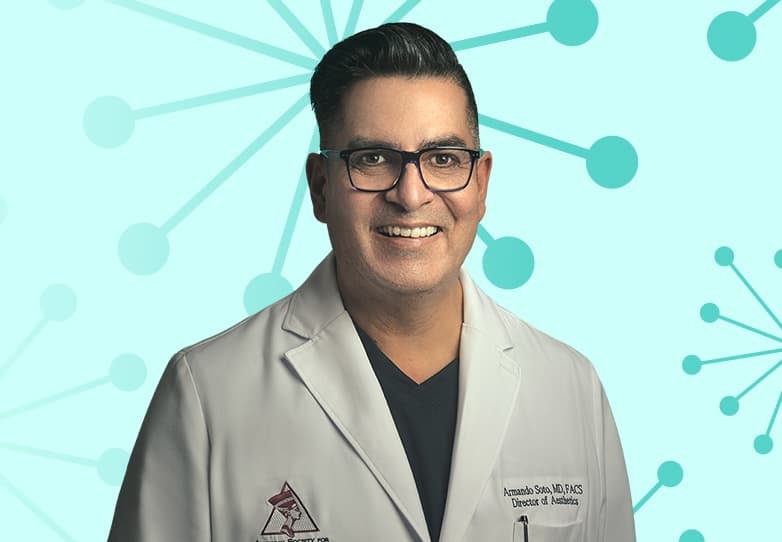 Dr. Armando Soto
Dr. Soto is a board-certified plastic surgeon who brings an exceptional level of attention, skill, and integrity to every patient and procedure. For more than 15 years, he has helped Orlando women and men look and feel fabulous using innovative yet proven surgical and nonsurgical options. As a well-respected plastic surgeon, Dr. Soto is a member of leading professional associations, including the American Society of Plastic Surgeons (ASPS) and The Aesthetic Society.
Meet Dr. Soto
Credentials You Can Trust

Eyelid Surgery FAQs
Does eyelid surgery leave visible scars?
Eyelid surgery, whether upper or lower, generally does not cause visible scarring. This is because the surgeon takes great care to ensure that the incisions are made within the natural lines and folds of the eyes. Once the surgical healing has passed, the incisions will not be noticeable even to the naked eye.
Does eyelid surgery work for wrinkles and crow's feet?
Crow's feet and forehead wrinkles are better treated with procedures such as a facelift, browlift, or a cheek lift as the results of the eyelid surgery are confined to the eyelids only. Eyelid surgery can also be combined with a nonsurgical procedure such as BOTOX, which combats wrinkles on the forehead and around the eyes. An injectable filler can also be effective because it adds volume to hollow areas for a softer, smoother appearance.
Can eyelid surgery improve your vision?
Blepharoplasty not only corrects a cosmetic issue but a functional one as well. Many patients with excess hanging skin on their upper eyelid are able to regain normal vision after surgery. For many, simply applying makeup without maneuvering around the excess skin is refreshing in and of itself.
Request Your Consultation
If you're interested in eyelid surgery with an experienced Orlando eyelid surgery specialist, request a consultation with Dr. Soto or call (407) 218-4550 to learn more.
A Reputation Built on Results
Dr. Soto is amazing!!! I got a breast augmentation with him and I love the results so much. I've never...
My experience was great! The staff are amazing!! They made me feel so comfortable and we're always available...
I recently had a breast augmentation performed by the talented Dr. Soto, and I couldn't be happier with...