Aesthetic Enhancements Plastic Surgery & Laser Center: Armando Soto, MD
7009 Dr Phillips Blvd #100
Orlando, FL 32819
Phone: (407) 218-4550
Fax: (407) 218-4551
Monday–Friday: 9 a.m.–5 p.m.

SkinPen® Microneedling
Plan Your Procedure
Average Procedure Time:
1-2 Hours
Post-op Follow-up:
4-6 weeks
Board-certified plastic surgeon Dr. Armando Soto offers microneedling treatments with SkinPen to Orlando men and women who desire smoother, younger-looking skin. At Aesthetic Enhancements Plastic Surgery, we use the SkinPen, a handheld device that gently creates microscopic holes in the outer layer of the skin to prompt collagen and elastin production. This microneedling process improves wrinkles, scars, brown spots, skin tone, and texture. It is ideal for all skin types, including sensitive skin, and requires little downtime with amazing results.
I had experienced bad acne in college and was left with scarring. Dr. Soto is fabulous! He has changed my life! Over the years he has used many methods: laser, skin pen, and the Morpheus. And now I am no longer afraid to go in public without makeup. I am so much more confident!

– L.A.
RF Microneedling

Before & After Photos
Your Microneedling Procedure
Microneedling is performed on the face, neck, chest, arms, hands, legs, and stomach to strengthen the skin in weak areas. Using a sterilized handpiece with new needles for each patient, the technician will pass the microneedling device over the skin. As part of the patient's individual treatment plan, once the microneedling is completed, skincare products or injectable wrinkles fillers can be applied that will be able to penetrate further into the skin with the microchannels created.
Microneedling Recovery & Results
Patients may have mild redness in the treated area for up to 5 days, but this can usually be covered with mineral makeup. Some patients may notice other mild reactions, including burning, tightness, and skin flaking.
Patients will be able to resume their normal activities immediately after their treatment, but heavy activity and exercise should be avoided for at least 24 hours. Since it takes time for the effects of increased collagen and elastin to become visible, patients may see some improvement immediately, but most will see their results 3 to 6 months after their treatment.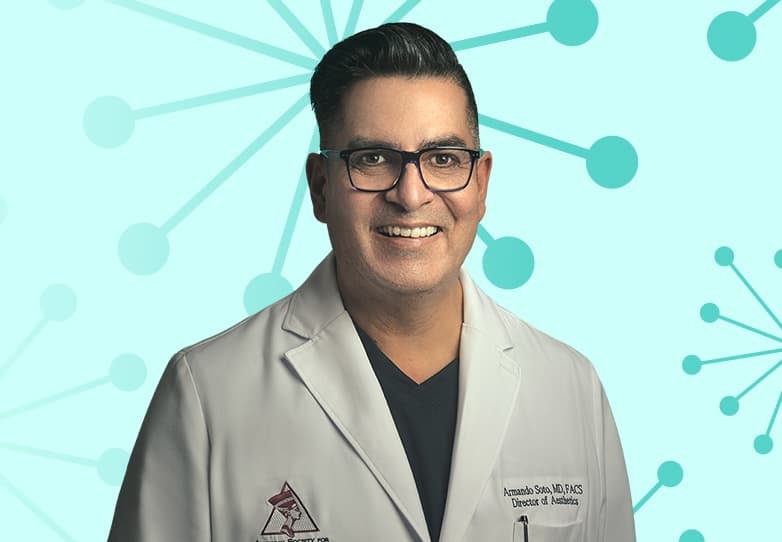 Dr. Armando Soto
Dr. Soto is a board-certified plastic surgeon who brings an exceptional level of attention, skill, and integrity to every patient and procedure. For more than 15 years, he has helped Orlando women and men look and feel fabulous using innovative yet proven surgical and nonsurgical options.
Meet Dr. Soto
Credentials You Can Trust

Microneedling FAQs
How often will I need touch-up treatments?
Most patients will get their best results after 3 to 6 microneedling treatments, but once the desired results are achieved, patients should continue to schedule touch-up treatments to maintain the results. Patients generally see sustained results if they get 1 or 2 microneedling sessions every year.
What are collagen and elastin?
Collagen and elastin are proteins found in the tissue to support the skin. The supply of collagen fibers and elastin in the body typically decreases with age and the decreased elasticity of the skin leads to sagging, wrinkles, and lines.
Who are the best candidates for microneedling?
The best candidates for microneedling are usually age 50 and under who are beginning to see the start of aging and environmental damage, but they still have good skin elasticity. Microneedling can be used on all skin types and tones, but it is not recommended for women who are pregnant or breastfeeding.
Request a Consultation
Aesthetic Enhancements Plastic Surgery is happy to provide the most up-to-date technology in the cosmetic field, including SkinPen microneedling for skin rejuvenation, at our Orlando, FL, practice. If you would like to talk with Dr. Soto about your skin rejuvenation options, request a consultation online or call (407) 218-4550.
A Reputation Built on Results
Dr Soto and his staff exceeded all of my expectations. I felt cared for, listened to, and respected...
I can not say enough about how wonder Dr. Soto was in my breast lift and augmentation. As my first and...
My experience with Dr. Soto and his team was amazing. I was impressed by how fast I got an appointment...
Dr. Soto and his team are absolutely amazing. From the first day I walked in until present, everyone...