Aesthetic Enhancements Plastic Surgery & Laser Center: Armando Soto, MD
7009 Dr Phillips Blvd #100
Orlando, FL 32819
Phone: (407) 218-4550
Fax: (407) 218-4551
Monday–Friday: 9 a.m.–5 p.m.

VASER® Liposuction
Plan Your Procedure
Price Starting At:
$4,000
Average Procedure Time:
1-4 Hours
Post-op Follow-up:
3-4 Days
Recovery Location:
Outpatient
*Includes surgical, anesthesia, and OR fees, and post-surgical garments
Board-certified plastic surgeon Dr. Armando Soto offers VASER liposuction treatments for body sculpting and contouring in Orlando. The VASERlipo system is an advanced form of liposuction, which harnesses the power of highly refined ultrasound waves to destroy fatty tissue cells through a process called cavitation. Patients travel from as close as Winter Park to outside of Florida to get this advanced treatment at Aesthetic Enhancements Plastic Surgery. Results leave patients with beautifully smooth and tight skin.
"I had Vaser Lipo of hips, waist and abs. The entire experience has been tremendous; Dr. Soto is a very skilled surgeon; I am thrilled with my new body. The after care was very professional …. I will be going back to him in the future!! I highly recommend him."

– Anonymous, RateMDs
Vaser Liposuction

Before & After Photos
Surgical Technique
During the procedure, saline solution with dilute medication is injected into the target area, expanding the fatty tissue layer. This makes the procedure safer and improves fat reduction. Ultrasound probes are then used to direct the energy to the areas of your localized collection. After the fat has been adequately treated, Dr. Soto removes the fat using liposuction cannulas.
VASER vs. Traditional Lipo
VASERlipo is considered gentler on the body with less recovery time, less bruising and swelling than traditional liposuction. The high-end system enables Dr. Soto to have more control to contour specific areas of the body to obtain the smooth, seamless look patients desire. Another pro of VASERlipo is that it focuses on liquefying fat cells without harming the surrounding tissue. During tumescent liposuction, once an incision is made to the target area, a thin tube is inserted to remove fat cells, which is powered by a motorized suction system. This process does not use ultrasound frequency to break down fat cells and therefore is harsher on the body, removes all the tissue it comes in contact with, and has a longer recovery process.
Your VASERlipo Procedure
VASERlipo is usually performed under general anesthesia in our on-site, nationally accredited operating room, although small areas may sometimes be treated under local anesthesia with or without mild sedation. The amount of fat and the area being treated will determine the length of the procedure, but commonly the procedure lasts between 1 and 3 hours.
VASERlipo Recovery & Results
Immediately following the procedure, patients are taken to our on-site recovery room for a short observation period, and a compression garment is applied. The garments are worn for 4 to 6 weeks to ensure proper healing and quick resolution of swelling. Most patients can return to everyday activity within a day or two, with more significant exercise allowed after a few weeks. Most patients will see a positive change in their body contours as soon as a few days after surgery, but due to the expected swelling, you should not expect to see your final outcome for at least 2 to 3 months.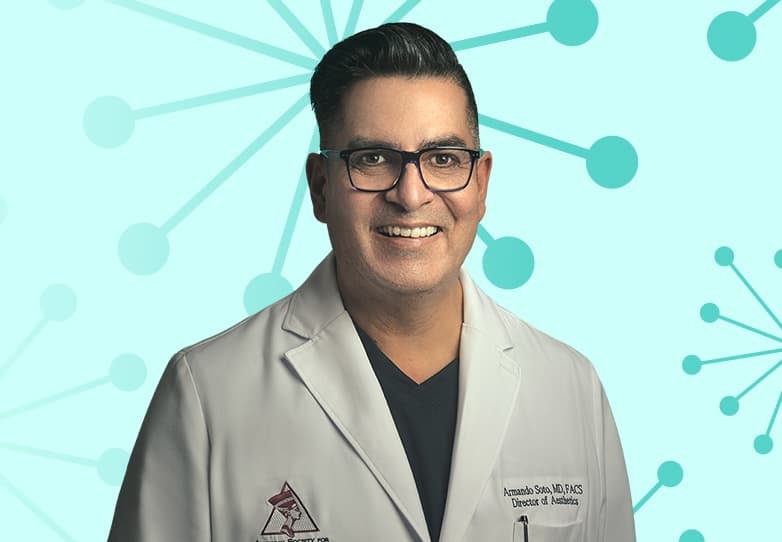 Dr. Armando Soto
Dr. Soto is a board-certified plastic surgeon who brings an exceptional level of attention, skill, and integrity to every patient and procedure. For more than 15 years, he has helped Orlando women and men look and feel fabulous using innovative yet proven surgical and nonsurgical options. As a well-respected plastic surgeon, Dr. Soto is a member of leading professional associations, including the American Society of Plastic Surgeons (ASPS) and The Aesthetic Society.
Meet Dr. Soto
Credentials You Can Trust

Laser Liposuction FAQs
Which areas can be treated with VASERlipo?
When undergoing any cosmetic procedure, it's important to have the proper expectations. That being said, VASERlipo is not a weight loss solution or solution for obesity. It is a type of liposuction that helps contour areas of the body that cannot be improved by exercise and diet. VASERlipo can treat the following areas:
Abdomen
Arms
Cheeks
Chin
Hips
Neck
Thighs
Combining Renuvion®, a skin tightening treatment that uses radiofrequency (RF) energy and helium, with VASERlipo can enhance the overall results in all treatment areas.
Are VASERlipo results permanent?
Once the fat cells are liquefied and removed, they are permanently lost. However, to maintain positive results, you should practice a healthy diet and daily exercise routine. Maintaining a healthy weight will ensure long-lasting results.
Doses VASERlipo hurt?
Since most patients choose to undergo general anesthesia, there is typically no pain during the procedure. When performed under local anesthesia, there is often some discomfort as the procedure is being performed and some mild discomfort following the procedure.
Request Your Consultation
If you live in or around Orlando and want a body contouring solution for sculpting away stubborn fat, Dr. Soto can help with VASERlipo. To learn more about your body contouring options, request a consultation online or call (407) 218-4550.
A Reputation Built on Results
Dr. Soto is amazing!!! I got a breast augmentation with him and I love the results so much. I've never...
My experience was great! The staff are amazing!! They made me feel so comfortable and we're always available...
I recently had a breast augmentation performed by the talented Dr. Soto, and I couldn't be happier with...