Aesthetic Enhancements Plastic Surgery & Laser Center: Armando Soto, MD
7009 Dr Phillips Blvd #100
Orlando, FL 32819
Phone: (407) 218-4550
Fax: (407) 218-4551
Monday–Friday: 9 a.m.–5 p.m.

For Out of Town Patients
Orlando is a beautiful metropolitan city with a population of more than 2 million known as the "The Theme Park Capital of the World." Orlando is home to Walt Disney World®, Universal Orlando™, and SeaWorld® which makes it a popular destination for family vacations and tourism. However, that's not all this thriving city has to offer. The quality of life, cost of living, and numerous attractions positions Orlando as one of the top-ranked places to retire.
If you are traveling from out of town to visit Dr. Soto for treatment, our staff wants to make your stay is as pleasant as possible, which is why we have provided information on several local hotels, restaurants, and attractions in the area. The Orlando International Airport (MCO) is also conveniently located about 30 minutes from our practice.
Hotels
Loews Portofino Bay Hotel
Loews Portofino Bay Hotel at Universal Orlando is an exclusive Universal Orlando park benefit that offers a fun, Italian-themed atmosphere that will sweep you off your feet. The design and location of the hotel are inspired by the quaint, seaside village of Portofino, Italy. With 750 guestrooms, 45 luxurious suites, shopping boutiques, fine restaurants, and three uniquely themed swimming pools, you may never want to leave. The hotel also presents guests with exclusive theme park offers that will make your visit to Universal Orlando even better. Our staff at Aesthetic Enhancements Plastic Surgery highly recommend booking your stay here if you plan to visit Universal Orlando.
Four Seasons Resort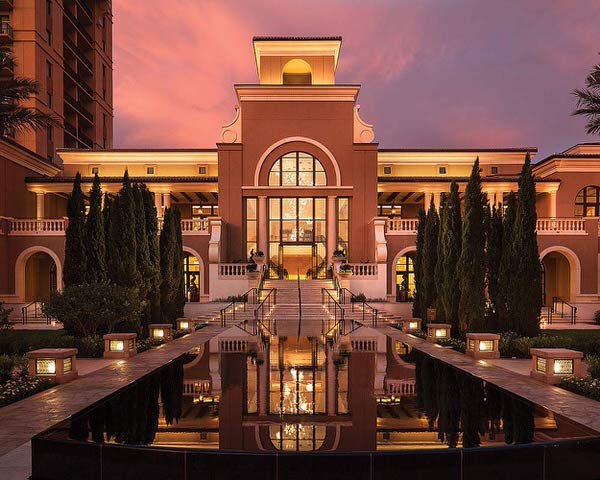 Four Seasons Resort Orlando at Walt Disney World Resort is the perfect blend of luxury, romance, and family fun. The grounds feature a full golf course, tranquil spa, amazing dining options, outdoor lounges, and complimentary kids' camp. There are numerous recreational amenities like tennis, fitness facilities, boutiques, a lazy river, an adult-only pool, and so much more. It's the perfect destination for a family vacation or a romantic get-a-way for two. Room accommodations range from private lake view rooms to a full 16th-floor buy-out. It's also pet-friendly so your furry companion can join in on all the fun.
Drury Inn & Suites
At Drury Inn & Suites Orlando, guests will receive top-notch service and excellent hospitality the moment they walk through the door. The hotel features luxurious rooms equipped with free WiFi, a refrigerator, microwave, coffee maker, and LCD TV. The facility includes an indoor/outdoor pool, 24-hour fitness center, guest pantry, and laundry center. Guest will enjoy free local calls, free parking, and complimentary shuttles to Universal Orlando Resort. The hotel has also partnered with Universal Orlando to offer exclusive vacation benefits and packages you won't be able to pass up.
Restaurants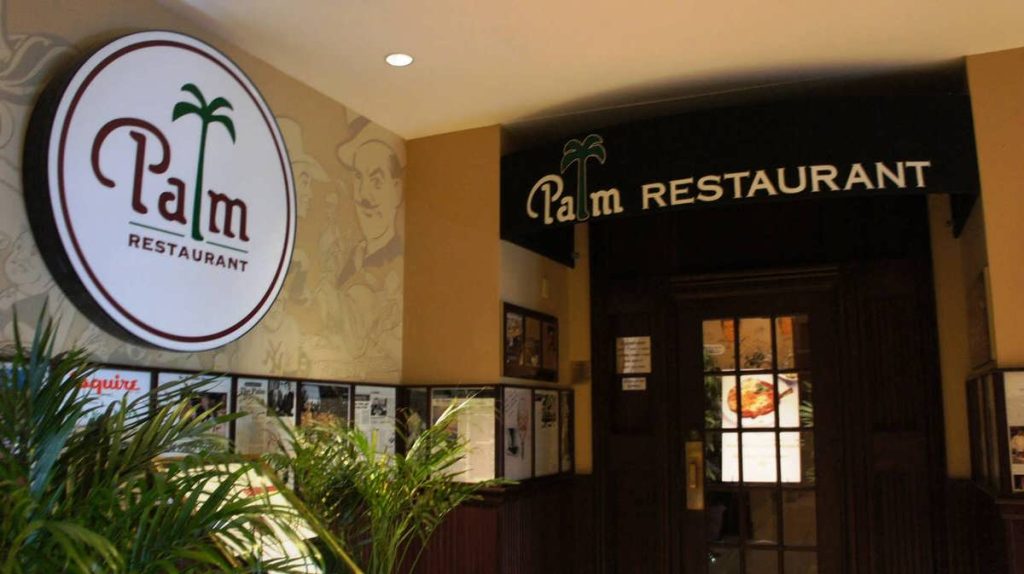 The Palm
Every meal at The Palm is made with the highest quality ingredients and prepared by exceptionally skilled culinary artists. The menu features prime steak, Nova Scotia lobster, veal marsala, baked clams, fresh baby kale salad, and mouth-watering desserts. Celebrity caricatures and New York newspaper headlines decorate the walls, which pays homage to the original Palm restaurant that opened in New York City in 1926. Patrons from all over the country visit The Palm every year, which speaks to the restaurant's success. The location also allows guests the convenience of spending more time at their favorite Universal Orlando theme park.
Bartaco
Bartaco is a casual sit-down restaurant inspired by Latin-American cuisine with a relaxing environment for all to enjoy. The moment you walk in, you will be whisked away by the coastal charm, eclectic beach decor, wood accents, and large windows that allow for natural lighting. This is a great place to grab lunch for one or a large group as they serve party trays that offer a chef's selection of tacos, chips, and sides. Their menu features both meat and veggie tacos, rotisserie chicken, fried plantains, hand-mashed guacamole, delicious rice bowls, and so much more. Bartaco is a favorite among our staff and we highly recommend it to our out-of-town guests.
Amura
Amura is a Japanese hibachi and sushi restaurant that serves the highest quality ingredients and fresh seafood. Patrons will experience exceptional service and amazing culinary entertainment at the hibachi grill. The spacious and modern interior is finely decorated with gorgeous wood tables, artistic ceiling lighting, and a full-service bar. Their menu offers a wide variety of sushi ranging from the California roll to sashimi, not to mention a fine selection of delicious cocktails. The dessert menu is equally enticing, featuring mocha ice cream and crème brûleé. Our staff loves coming here!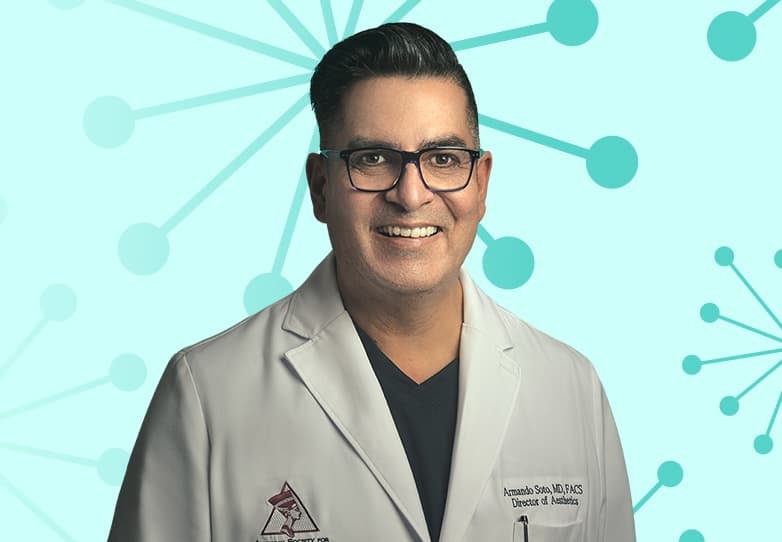 Dr. Armando Soto
Dr. Soto is a board-certified plastic surgeon who brings an exceptional level of attention, skill, and integrity to every patient and procedure. For more than 15 years, he has helped Orlando women and men look and feel fabulous using innovative yet proven surgical and nonsurgical options.
Meet Dr. Soto
Credentials You Can Trust

Attractions
Walt Disney World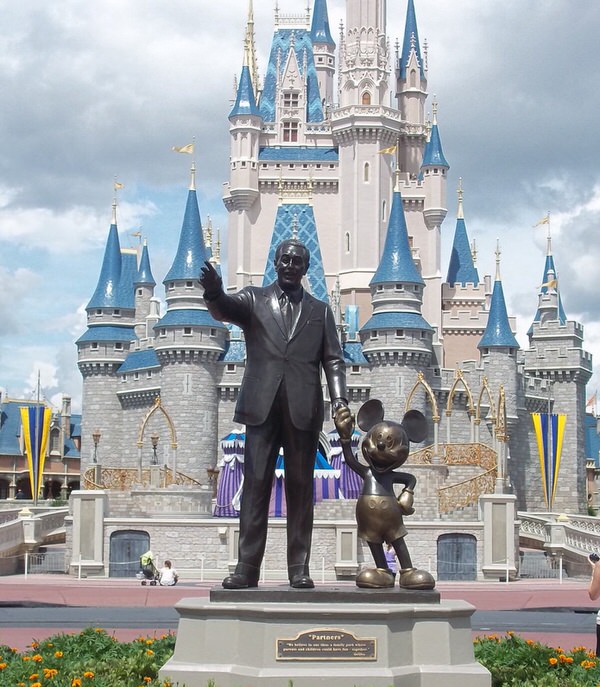 Walt Disney World in Orlando originally opened in 1971 and has been bringing the joy and magic of Disney to the area ever since. The massive entertainment complex covers over 25,000 acres and features 36 resort hotels, 4 theme parks, 2 water parks, a camping resort, and so much more. With all there is to see, it's impossible to explore it all in one day. The four parks are uniquely designed and themed to create an unforgettable experience you will treasure for years to come. With modern technology, the parks now offer online ride reservations, making long wait times a thing of the past. Many of our Aesthetic Enhancements Plastic Surgery staff have experienced Disney World and highly recommend the visit.
Universal Orlando
Universal Orlando is the second-largest theme park in Florida and features two distinct theme parks, a newly built water park, the Hard Rock Hotel, and Loews Portofino Bay Hotel. Founded over 26 years ago, the park offers fun and unique entertainment for the whole family. The park complex features eight themes, including Jurassic Park and The Wizarding World of Harry Potter. Universal Citywalk also allows patrons to experience great dining, shopping, and nighttime attractions without the purchase of a theme park ticket. Our staff fully enjoys visiting the park and dining at the Hard Rock Hotel.
SeaWorld Orlando
SeaWorld Orlando is a popular destination for visitors all over the country and features three amazing theme parks. From roller coaster rides to 3D theater shows, there are entertainment options that will satisfy every member of the family. The aquatic wildlife exhibits throughout the parks also combine fun and education to create a memorable experience. There is so much to explore and local partner hotels provide free shuttles to the park complex, discount tickets, travel packages, and exclusive offers you can't resist. Don't miss out on the wonders of SeaWorld when visiting our practice for treatment.
Request Your Consultation
If you would likeTo learn more about plastic surgery or nonsurgical procedures in the Orlando, FL, area, request a consultation online or call (407) 281-4550.
A Reputation Built on Results
Doc Soto and his staff are wonderful! The work he does is fantastic, his staff is pleasant and nice...
To say that I am happy with my abdominoplasty is an understatement. Dr. Soto is a consummate professional...
I have been doing botox and fillers at this medical facility for over a decade and each time is alway...
Dr. Soto and the team is nothing short of kind and amazing!! They were honest, open, accommodating as...