Aesthetic Enhancements Plastic Surgery & Laser Center: Armando Soto, MD
7009 Dr Phillips Blvd #100
Orlando, FL 32819
Phone: (407) 218-4550
Fax: (407) 218-4551
Monday–Friday: 9 a.m.–5 p.m.

Breast Implant Removal (Explant Surgery)
Plan Your Procedure
Price Starting At:
$8,000
Average Procedure Time:
3-4 Hours
Post-op Follow-up:
3-4 Days
*Includes surgical, anesthesia, and OR fees, and post-surgical garments
Breast implants are not lifelong devices, and there are various reasons women may wish to remove them. Some have concerns about their health, while others just feel like "it's time." If you are ready to say goodbye to your implants, Dr. Armando Soto is here to help. As a board-certified plastic surgeon, he has performed breast implant removal (explant surgery) for countless women from Orlando, Winter Park, Kissimmee, and throughout central Florida to help them feel more comfortable and confident in their bodies.
I had an explant/breast lift done. I am extremely happy with the results. Dr. Soto is very professional and knowledgeable. The staff was amazing, especially Romie. Thanks for the wonderful results!

– E.M.
What Is Breast Implant Removal?
Breast implant removal is a procedure for removing breast implants and usually the capsule of scar tissue that forms around them. This restores the breasts to their natural size and allows the surgeon to address any side effects caused by the presence of implants.
Some reasons women may wish to remove their implants after breast augmentation include:
Fixing ruptured or malpositioned implants
Concerns about implants placed many years ago
Changes in lifestyle or aesthetic preferences
Does Explant Surgery Cure Breast Implant Illness?
In recent years, women have also wished to remove their implants due to concerns about "breast implant illness" (BII). While BII is not currently recognized as an official medical diagnosis, reported symptoms include autoimmune issues, chronic fatigue, or cognitive changes. Dr.Soto is happy to perform breast implant removal for women who feel that the procedure may alleviate these problems.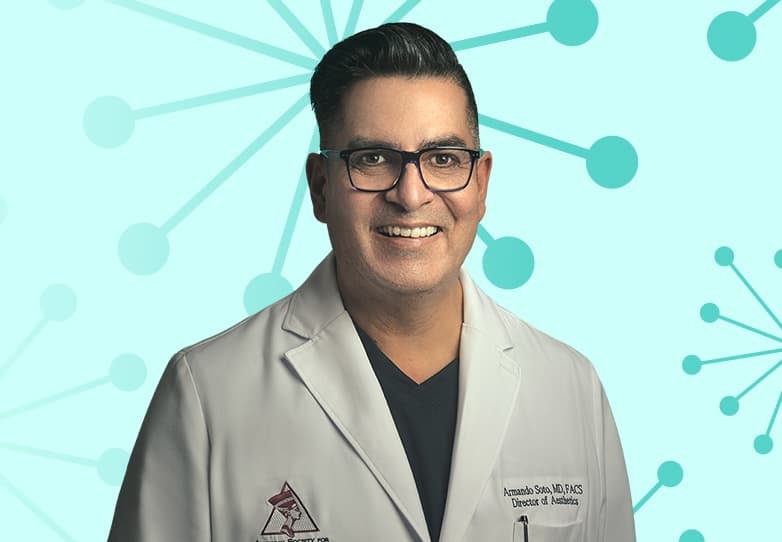 Dr. Armando Soto
Dr. Soto is a board-certified plastic surgeon who brings an exceptional level of attention, skill, and integrity to every patient and procedure. For more than 15 years, he has helped Orlando women and men look and feel fabulous using innovative yet proven surgical and nonsurgical options.
Meet Dr. Soto
Credentials You Can Trust

Your Explant Procedure
Explant surgery is an outpatient procedure performed under general anesthesia. During treatment, Dr. Soto removes the breast implants and the surrounding scar tissue using an incision along the breast crease. Sometimes the scar tissue capsule is removed with the implant still inside, which is a process known as "en bloc capsulectomy." The overall procedure typically takes 2 to 3 hours and patients can return home after a short observation period.
Will My Breasts Sag After Implant Removal?
Your breasts may appear droopy or deflated after implant removal. The surrounding skin and tissues stretch to accommodate the implant, and they don't always shrink back into their previous shape. Also, depending on how long you've had your implants, your breasts may have changed with age. To correct this, Dr. Soto may suggest a breast lift to improve the shape and position of your breasts. Your need for a breast lift after explant surgery depends on many factors, including:
Implant size
Breast skin elasticity
Amount of breast tissue present
Combining a breast lift with your breast implant removal will help lift and firm the breasts. After a physical exam, Dr. Soto can help you decide if you would benefit from this approach.
Breast Implant Recovery & Results
While recovery time varies for each patient, most women return to work and their usual activities after 5 to 7 days. The chest area may be bruised and tender for around 2 to 3 weeks after treatment, and you should avoid strenuous exercise during this time. Dr. Soto will provide post-procedure directions and suggest products to minimize scarring. Swelling subsides and your new breast shape becomes apparent within a few weeks, but minor changes and scar healing will continue for several months.
Ready for Life Without Implants?
If you're unhappy with the appearance of your breast implants, Dr. Soto can help you safely restore your natural look with breast implant removal. To learn more about explant surgery in the Orlando, FL, area, request a consultation online or call our office at (407) 218-4550.
A Reputation Built on Results
Dr. Soto and the team is nothing short of kind and amazing!! They were honest, open, accommodating as...
Well I have to share my happiness, to me Dr Soto is the best, from the beginning he explained to me...
BEST EXPERIENCE I COULD HAVE EVER ASKED FOR. The staff of this office is beyond any other office I've...
I honestly wish I would have done my breast augmentation surgery years ago!! I had many fears and as...