Aesthetic Enhancements Plastic Surgery & Laser Center: Armando Soto, MD
7009 Dr Phillips Blvd #100
Orlando, FL 32819
Phone: (407) 218-4550
Fax: (407) 218-4551
Monday–Friday: 9 a.m.–5 p.m.

Butt Lift
Plan Your Procedure
Price Starting At:
$8,000
Average Procedure Time:
4-5 Hours
Post-op Follow-up:
3-4 Days
Recovery Location:
Outpatient
*Includes surgical, anesthesia, and OR fees, and post-surgical garments
If you struggle with loose, saggy skin around the buttocks due to aging or weight loss, Dr. Armando Soto is here to help. As a board-certified plastic surgeon, he has performed countless butt lift treatments in Orlando, FL, to help people from Winter Park and throughout central Florida who want a firmer, more uplifted bottom.
Unlike the Brazilian butt lift, the primary goal of this procedure isn't to increase the volume of the buttocks. Instead, a butt lift improves the body's shape by removing excess skin and toning the hips and buttocks, resulting in a much more youthful and attractive silhouette.
Dr. Soto was very knowledgeable and informative in answering any and all my questions. It is clear he takes much pride in his work and attention to details. Dr. Soto and the entire office staff are so kind and accommodating. They really take care of you from start to finish and beyond.

– I., RealSelf.com
Surgical Technique
In a butt lift procedure, incisions are usually made along the upper curvature of the buttocks. These incisions are carefully planned so that they can be hidden by most garments—including bikini bottoms and underwear. The loose, excess skin is removed in a unique pattern to maximize shape improvement for each patient. Liposuction is sometimes performed with the procedure when additional contouring is needed. Once the loose skin is trimmed away and the underlying tissues are resuspended, Dr. Soto completes the final closure.
Your Butt Lift Procedure
There are various reasons why the skin on and around the hips and buttocks may begin to sag. The correct procedure for you will depend on the details of your examination and your ultimate goals. Dr. Soto's advanced training in modern body contouring techniques will help you find the best procedure for your needs and achieve the youthful look you've always wanted.
Dr. Soto performs buttock lift procedures on an outpatient basis in our internationally accredited, on-site surgical facility in Orlando and under general anesthesia. If a combination surgery is performed with a butt lift, an overnight stay may be required.
Butt Lift Recovery & Results
Swelling and bruising may last several weeks as the area heals, but most patients are performing light, everyday activities within a few days. Scarring is also unavoidable, but Dr. Soto makes every effort to make the incisions as inconspicuous as possible so that they are hidden by undergarments and swimwear. In most cases, patients will be able to return to work after 1 to 2 weeks and resume intensive exercise at 6 weeks.
A butt lift gives the buttocks a firmer, more youthful look. The appearance of loose skin, cellulite dimples, and wrinkling will be smoother and more toned.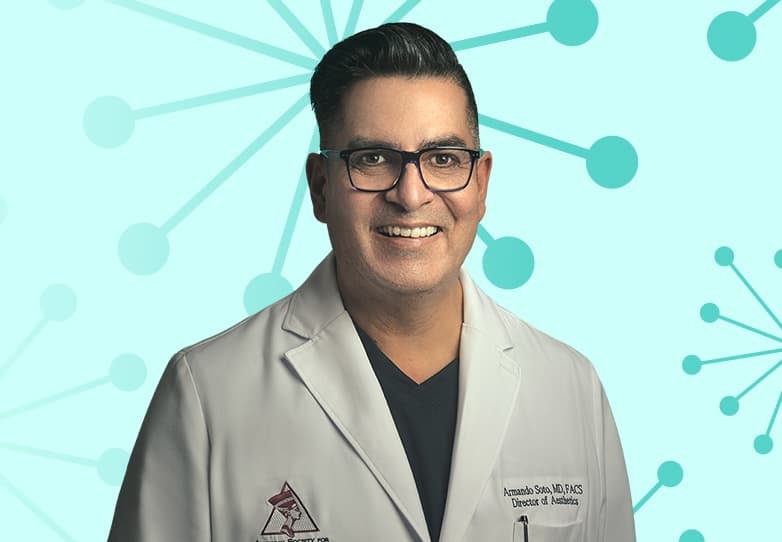 Dr. Armando Soto
Dr. Soto is a board-certified plastic surgeon who brings an exceptional level of attention, skill, and integrity to every patient and procedure. For more than 15 years, he has helped Orlando women and men look and feel fabulous using innovative yet proven surgical and nonsurgical options.
Meet Dr. Soto
Credentials You Can Trust

Butt Lift FAQs
How do I know if I need a butt lift or liposuction?
It depends. Both of these procedures address different cosmetic issues. For individuals who have loose skin or wrinkles under the buttock area, a butt lift is necessary. This procedure may still include liposuction if there is excess fat to be removed. Patients with a healthy skin tone who simply want smaller buttocks may see improvements with liposuction alone. These alternatives can be discussed during the initial body assessment and consultation with Dr. Soto.
Does a butt lift involve butt implants?
No, butt lift surgery does not involve implants. Butt augmentation is the procedure in which implants are used to give the buttocks volume and a shapelier curve. Another common procedure is the Brazilian butt lift , which gives the buttocks the same effect as butt augmentation by using fat transfer instead of an implant.
It is important to note that although a butt lift improves the firmness of the buttocks, it does not add volume. Some patients may benefit from a combined procedure that involves a butt lift with a fat transfer or implants.
What happens if I gain weight after my butt lift?
A butt lift is recommended for those close to or at their goal weight, with a BMI (body mass index) below 30. When there is a significant weight gain after this surgery, it can compromise the surgical results. Like any body contouring procedure where the shape and contour of the body are enhanced, adhering to a healthy lifestyle with proper diet and regular exercise will help maintain the results over the long term.
How bad is the scarring after a butt lift?
As with most skin removal surgeries, there will be some scarring with a butt lift procedure. Dr. Soto will make every effort to minimize scarring and reduce visibility by placing the incisions within the natural folds under the buttocks. Post-surgery care is very important for good wound healing. Compression garments and topical creams will also help. Over the years, the scars will fade and flatten out.
Request a Consultation
Dr. Soto can help you create a firm, rounded bottom with the help of butt lift surgery. If you're in the Orlando, FL, area and would like to learn more about treatment, request a consultation online or call (407) 218-4550.
A Reputation Built on Results
Dr Soto and his staff exceeded all of my expectations. I felt cared for, listened to, and respected...
I can not say enough about how wonder Dr. Soto was in my breast lift and augmentation. As my first and...
My experience with Dr. Soto and his team was amazing. I was impressed by how fast I got an appointment...
Dr. Soto and his team are absolutely amazing. From the first day I walked in until present, everyone...