Aesthetic Enhancements Plastic Surgery & Laser Center: Armando Soto, MD
7009 Dr Phillips Blvd #100
Orlando, FL 32819
Phone: (407) 218-4550
Fax: (407) 218-4551
Monday–Friday: 9 a.m.–5 p.m.

Breast Reduction
Plan Your Procedure
Price Starting At:
$9,000
Average Procedure Time:
3-4 Hours
Post-op Follow-up:
3-4 Days
Recovery Location:
Out-Patient
*Includes surgical, anesthesia, and OR fees, and post-surgical garments
Board-certified plastic surgeon Dr. Armando Soto performs breast reduction surgery in Orlando to help women from Winter Park, Kissimmee, and throughout central Florida who have overly large breasts. At Aesthetic Enhancements Plastic Surgery, we understand that disproportionately large breasts can cause a myriad of unwanted issues, such as poor self-esteem, back pain, skin irritation, and limitation of exercise or mobility. Breast reduction results in a breast size that is in better proportion to the patient's body, with an improved and more youthful shape and position as well.
Surgical Techniques
Finding a highly skilled surgeon with extensive experience in breast reduction is extremely important. As Dr. Soto has had more training in advanced breast techniques than the average plastic surgeon, he is comfortable and experienced with all variations and options for the safe reduction of size and improvement of the shape and position of the breasts. The technique recommended for you will depend on your starting appearance, the quantity and qualities of your skin and tissue, your goals, and any prior surgical procedures. Careful consultation with Dr. Soto will maximize the odds of achieving your goals safely.
Incision Placement
The most common incision for breast reduction is what most call "the anchor" or an inverted letter T. With this kind of approach, the incision is made around the areola, extends vertically down to the breast crease, and is then followed by another horizontal incision along the direction of the fold. The areola will be repositioned once the breasts have been resized and reshaped. A lift will also be done so that the breasts will be placed higher on the chest.
During/After Surgery
Breast reduction is performed in Dr. Soto's internationally accredited Orlando surgical center under general anesthesia as an outpatient procedure. The surgery usually takes 2 to 4 hours. For the first several weeks, Dr. Soto will recommend the use of a compression bra to protect the breasts and their new shape. Depending on your responsibilities at work, you may go back to work as soon as a few days after your procedure. Heavy exercise may be resumed after 6 weeks, although lighter exercise is often permissible sooner. This is best discussed with Dr. Soto. Results following a breast reduction are evident immediately after the surgery, but because swelling may persist for several weeks, you should not expect to appreciate your final shape or size until this swelling has fully resolved.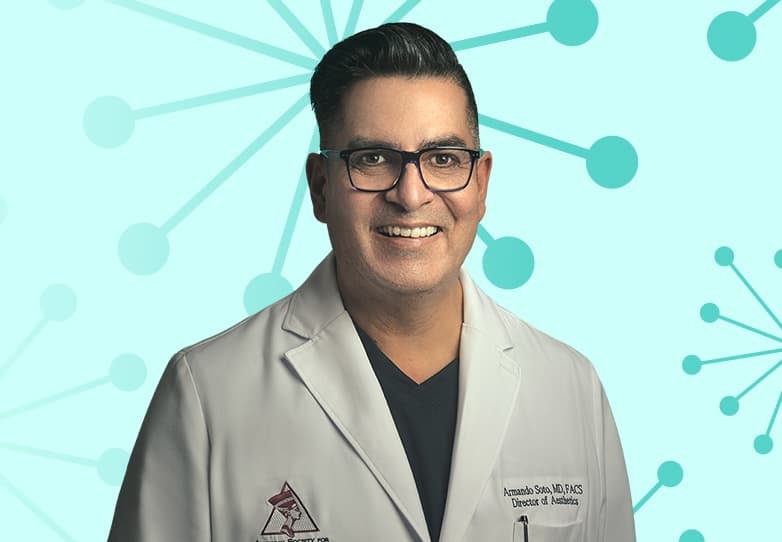 Dr. Armando Soto
Dr. Soto is a board-certified plastic surgeon who brings an exceptional level of attention, skill, and integrity to every patient and procedure. For more than 15 years, he has helped Orlando women and men look and feel fabulous using innovative yet proven surgical and nonsurgical options.
Meet Dr. Soto
Credentials You Can Trust

Breast Reduction FAQs
How long do breast reduction results last?
Breast reduction is a long-term solution for patients who are unhappy with their disproportionally large breasts. In cases where there is significant weight gain after surgery, the results may be compromised just as would occur after any cosmetic procedure that modifies body shape. Aging and gravity will also take their toll over time and will still effect the breasts (with or without the reduction). It is important to maintain a healthy weight and good health in order to maximize the longevity of your benefit.
Can I get my areolas reduced with breast reduction?
For most women with larger breasts, the areola is also excessively large. Your areola will be resized appropriately as necessary via an incision made surrounding its border, with the excess skin trimmed to producce a diameter that is proportional to the breasts' new shape and size.
How much reduction do I need?
This varies depending on the doctor's initial evaluation and the patient's preference. Often, the reduction results in a cup or two smaller from the original breast size.