Aesthetic Enhancements Plastic Surgery & Laser Center: Armando Soto, MD
7009 Dr Phillips Blvd #100
Orlando, FL 32819
Phone: (407) 218-4550
Fax: (407) 218-4551
Monday–Friday: 9 a.m.–5 p.m.

Brazilian Butt Lift
Plan Your Procedure
Price Starting At:
$9,500
Average Procedure Time:
3-4 Hours
Post-op Follow-up:
3-4 Days
Recovery Location:
Outpatient
*Includes surgical, anesthesia, and OR fees, and post-surgical garments
A flat or unshapely butt may be the result of genetics, significant weight loss, aging, or a combination of these factors. The Brazilian butt lift is a surgical procedure that creates a more shapely, fuller, rounder-looking butt using fat from your own body. Board-certified plastic surgeon Dr. Armando Soto offers Brazilian butt lift surgery in Orlando for people who want a safe, effective option for enhancing their buttocks. With years of experience with Brazilian butt lift surgery, Dr. Soto creates beautiful, natural-looking results for patients from Winter Park, Kissimmee, and throughout central Florida.
I am very happy with my results after my Brazilian Butt Lift. I feel like a totally new person thanks to Dr. Soto and all the staff! These guys work at a very professional level. I will continue to use their services once again.

– E.S.
Surgical Technique
The Brazilian butt lift involves 3 basic steps:
Liposuction of fat from the hips, abdomen, and back
Purification and selection of fat for grafting
Grafting of the purified fat to contour the buttocks to a shapelier form
Liposuction is performed using a closed sterile system to ensure the fat tissue is never exposed to the air, reducing potential contamination. Living fat cells are then separated from the fluid and connective tissue and purified before re-injection into the buttocks. Dr. Soto injects the fat little by little to make sure that the layering is done safely, properly, effectively and that the results are smooth and shapely.
Who Is a Good Candidate for Brazilian Butt Lift Surgery?
This surgery is a great option for patients who desire a natural approach, as opposed to receiving synthetic implants. Patients must also have good skin elasticity and enough body fat to undergo the procedure. Those who want to remove saggy skin and not add volume may be a better fit for a traditional butt lift.
Your body will first be evaluated to ensure you are a good candidate for the Brazilian butt lift method. Depending on the amount of fat necessary to fill the buttocks area and achieve your goals, multiple donor sites on the body may be considered.
Your Brazilian Butt Lift Procedure
Our Brazilian butt lift is an outpatient procedure that uses general anesthesia. The surgery lasts an average of 2 hours depending on the number of donor sites and the amount of fat layering needed. Potential donor sites for fat grafting include the lower back, abdomen, love handles, and thighs. Liposuction done in these areas usually also helps contour the surrounding areas of the buttocks, which results in a more attractive silhouette.
Brazilian Butt Lift Recovery
After surgery, a compression garment is worn to reduce swelling and assist in the contouring of the buttocks. Patients are advised not to put weight on the butt area for the first few weeks following surgery. Sitting or laying down must be done with the weight mostly on the thighs. After the swelling and bruising subside, final results can usually be seen within 6 to 8 weeks.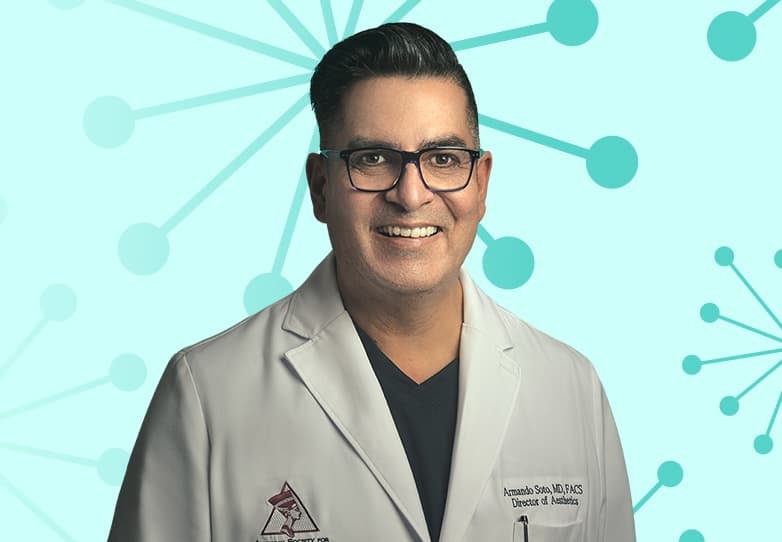 Dr. Armando Soto
Dr. Soto is a board-certified plastic surgeon who brings an exceptional level of attention, skill, and integrity to every patient and procedure. For more than 15 years, he has helped Orlando women and men look and feel fabulous using innovative yet proven surgical and nonsurgical options. As a well-respected plastic surgeon, Dr. Soto is a member of leading professional associations, including the American Society of Plastic Surgeons (ASPS) and The Aesthetic Society.
Meet Dr. Soto
Credentials You Can Trust

Brazilian Butt Lift FAQs
Will a Brazilian butt lift give me lumpy cheeks?
When done correctly, the result of a Brazilian butt lift should look and feel natural. It's important to find a plastic surgeon with a qualified background and extensive experience with this procedure. Your final results are affected by how the fat is selected, purified, and reinstated.
Which is better: natural or synthetic butt augmentation?
Many patients opt for fat transfers because they feel it is more safe and natural. Some are simply not comfortable with implants or a foreign device placed in their buttocks.
When choosing between fat grafting or buttock implants, it's important to understand the pros and cons of each. The disadvantage of fat transfers is that the injected fat may be naturally reabsorbed into the body over time, which means that a secondary surgery could become necessary later on in order to maintain results. Implants are a longer-lasting solution, so patients will need to consider the long-term effects of surgery carefully to find the option best suited to their needs.
What happens if I gain weight after my Brazilian butt lift?
Ideal Brazilian butt lift candidates should be at or near to their goal weight. Both significant weight gain or loss will compromise the results of the surgery. Patients who have had this procedure should stick to a healthy lifestyle with proper diet and exercise.
Request a Consultation
If you would like to create a full, rounded bottom by using your own natural fat, consider a Brazilian butt lift with Dr. Soto. If you're in the Orlando, FL, area and would like to learn more about treatment, request a consultation online or call (407) 218-4550.
A Reputation Built on Results
Dr. Soto is amazing!!! I got a breast augmentation with him and I love the results so much. I've never...
My experience was great! The staff are amazing!! They made me feel so comfortable and we're always available...
I recently had a breast augmentation performed by the talented Dr. Soto, and I couldn't be happier with...