Aesthetic Enhancements Plastic Surgery & Laser Center: Armando Soto, MD
7009 Dr Phillips Blvd #100
Orlando, FL 32819
Phone: (407) 218-4550
Fax: (407) 218-4551
Monday–Friday: 9 a.m.–5 p.m.

Laser Skin Resurfacing
What is Contour TRL Laser Skin Resurfacing?
Plan Your Procedure
Price Starting At:
$4,000
Average Procedure Time:
1-2 Hours
Post-op Follow-up:
1-2 Days
Recovery Location:
Out-Patient
The laser skin resurfacing treatment is a cosmetic procedure that uses controlled laser technology to rejuvenate the skin. At Aesthetic Enhancements Plastic Surgery in Orlando, FL, board-certified plastic surgeon Dr. Armando Soto offers this innovative procedure with Contour TRL™ technology to patients who wish to address pigment discoloration, acne, scarring, and wrinkles. It is a unique, noninvasive service that Dr. Soto is proud to present to his patients because it requires little downtime and produces amazing results that are evident almost immediately after treatment. The laser technology stimulates collagen production, which strengthens skin integrity and eliminates damaged skin cells to allow new skin growth.
How is Laser Skin Resurfacing Performed?
Laser skin resurfacing with Contour TRL uses ablative laser technology to vaporize and remove the upper layer of the skin. When the damaged, superficial skin is removed, it gives way for new skin to grow, which masks the face with a new layer of epidermis. Any pain during the procedure is managed with local anesthesia and/or sedatives to help the patient relax. The eyes will also be protected since lasers can be harmful to the patient's vision. Laser skin resurfacing's advanced technology allows accurate targeting of smaller areas so the surrounding skin is not affected. A session may take up to two hours, depending on the patient's skin conditions.
Ablative vs. Non-Ablative Lasers
Laser skin resurfacing may be aggressive, depending on the patient's aesthetic goals. The more aggressive treatments are referred to as ablative and wear away the epidermis to let new skin regeneration begin. Recovery with this technique may take up to three weeks. The lighter treatment, known as non-ablative, does not remove any skin. It stimulates deeper layers of the skin to initiate an increased growth of collagen. With this treatment, there will be no downtime for the patient. Both techniques help the skin regenerate. As new layers of skin are developed, skin problems, such as wrinkles, mild scars, and discoloration, are minimized.
The Contour TRL By Sciton
Our practice also makes use of the Contour TRL, a full-field skin resurfacing technology that allows the medical professional to have independent control over the depth of ablation and coagulation of the laser with the precision of up to a micron. Due to this, our doctors are able to customize each treatment to fit the needs of the patient's skin type and concerns rather than use a "one-size-fits-all" laser platform.
What Results Can I Expect After Laser Skin Resurfacing?
Laser resurfacing is an outpatient procedure. There may be pain during treatment so local anesthesia can be used to minimize the patient's discomfort. The doctor may also prescribe the patient a pain reliever after the procedure. The face may be bandaged after treatment. Since the epidermis is peeled away, the skin may appear red for several weeks. As it heals, crusting may be present. It is very important to follow the doctor's advice on skin care to prevent any scarring. It may take a few days before the patient can resume normal activities. It may also be beneficial to use an extra pillow when sleeping to ease any discomfort.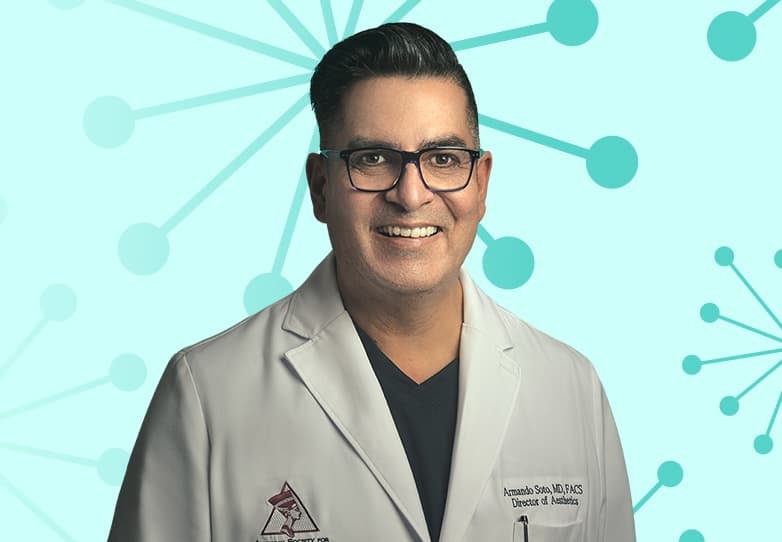 Dr. Armando Soto
Dr. Soto is a board-certified plastic surgeon who brings an exceptional level of attention, skill, and integrity to every patient and procedure. For more than 15 years, he has helped Orlando women and men look and feel fabulous using innovative yet proven surgical and nonsurgical options. As a well-respected plastic surgeon, Dr. Soto is a member of leading professional associations, including the American Society of Plastic Surgeons (ASPS) and The Aesthetic Society.
Meet Dr. Soto
Credentials You Can Trust

Contour TRL Laser Skin Resufacing FAQS
Are There Any Negative Effects With Contour TRL?
Although the procedure will wear the skin surface away, there is a minimal risk of scarring, especially when post-treatment care is implemented. It is critical to find a reputable doctor or technician with comprehensive experience with laser skin treatments. It's important for the surgeon to understand different technologies that affect different skin types. When done correctly, the result is long-lasting healthy skin and effective in combating signs of aging and skin damage.
What Are The Long-Term Effects?
Aside from the natural effects of aging, personal habits, and environmental factors, results can be long-lasting. Maintenance treatments may be considered as signs of aging get more and more significant over time.
Ablative or Non-Ablative?
It depends mainly on the patient's skin condition and cosmetic goals. Another factor to consider is how quickly the recovery period should be or if there should be no downtime for the patient. The doctor will discuss each treatment in detail and recommend the best approach that matches the patient's circumstances.