Aesthetic Enhancements Plastic Surgery & Laser Center: Armando Soto, MD
7009 Dr Phillips Blvd #100
Orlando, FL 32819
Phone: (407) 218-4550
Fax: (407) 218-4551
Monday–Friday: 9 a.m.–5 p.m.

Forever Body™ BBL
Plan Your Procedure
Price Starting At:
From $600
Average Procedure Time:
60 minutes
Signs of aging often develop on the face and neck, but they can appear on nearly any part of the body. Sun damage and age can cause your skin to lose elasticity and become lax, discolored, or blemished. Dr. Armando Soto, a board-certified plastic surgeon, uses Forever Body BBL at his practice to help Orlando, FL, patients restore their youthful glow. If you have been struggling with wrinkles, dark spots, or other imperfections, Forever Body can transform your appearance.
What Is Forever Body BBL?
Forever Body BBL is an advanced skin rejuvenation treatment that uses the state-of-the-art BBL HERO laser system, delivering 3 times the power of other light treatment devices to achieve long-lasting results across the entire body. It is often used to treat large areas of skin such as the back, chest, or face. The treatment works by delivering concentrated pulses of light into specific layers of skin, stimulating collagen and elastin production to reduce signs of aging. These two proteins help your skin retain its moisture while improving overall texture, shape, and volume. The skin will appear smoother and younger as it begins to naturally repair and heal itself over time.
Forever Body BBL is often used to treat:
Rosacea
Sun damage
Wrinkles
Fine lines
Broken blood vessels
This nonsurgical procedure is safe and can be completed on a lunch break, making it a popular option for busy men and women.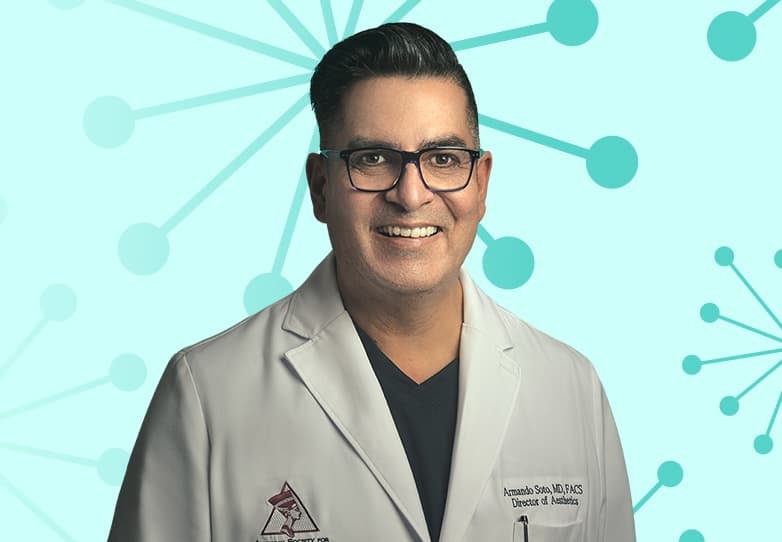 Dr. Armando Soto
Dr. Soto is a board-certified plastic surgeon who brings an exceptional level of attention, skill, and integrity to every patient and procedure. For more than 15 years, he has helped Orlando women and men look and feel fabulous using innovative yet proven surgical and nonsurgical options.
Meet Dr. Soto
Credentials You Can Trust

Your Broadband Light Therapy Procedure
Before the procedure, your eyes will be covered to protect them from the light of the laser. The device is then lightly passed over your skin while concentrating on specific treatment locations. Each flash of light produces a feeling of warmth. The power and focus on the laser can be adjusted during the session to better fit the needs of your skin.
Your Forever Body BBL treatment time will depend on the number of areas you are addressing. In general, BBL procedures at our practice can be finished in 1 hour or less, with face procedures taking only 10 to 15 minutes.
Forever Body BBL Recovery & Results
After treatment, a cooling cream will be smoothed onto your skin to reduce any potential discomfort. Dr. Soto will provide you with post-care directions and analyze your treatment areas. BBL patients should stay out of the sun in the days following the procedure. Be sure to wear sunscreen and protective clothing to limit your sun exposure after treatment.
Results from Forever Body BBL can be seen around 2 to 6 weeks after the session. For optimal results, patients can schedule follow-up appointments to further improve their skin texture.
Request Your Consultation
Forever Body BBL can help Orlando, FL, patients create beautiful skin from head to toe. To learn more about skin rejuvenation and other med spa treatments in the Central Florida area, request a consultation online or call (407) 218-4550.
A Reputation Built on Results
Dr Soto and his staff exceeded all of my expectations. I felt cared for, listened to, and respected...
I can not say enough about how wonder Dr. Soto was in my breast lift and augmentation. As my first and...
My experience with Dr. Soto and his team was amazing. I was impressed by how fast I got an appointment...
Dr. Soto and his team are absolutely amazing. From the first day I walked in until present, everyone...