Aesthetic Enhancements Plastic Surgery & Laser Center: Armando Soto, MD
7009 Dr Phillips Blvd #100
Orlando, FL 32819
Phone: (407) 218-4550
Fax: (407) 218-4551
Monday–Friday: 9 a.m.–5 p.m.

miraDry®
Plan Your Procedure
Price Starting At:
$1,750
Recovery Time:
3-4 Months
Average Procedure Time:
1-2 Hours
Post-op Follow-up:
No Follow Up Needed
Recovery Location:
Out-Patient
Board-certified Plastic Surgeon Dr. Armando Soto offers miraDry at Aesthetic Enhancements Plastic Surgery in Orlando as a solution to his patients who suffer from excessive sweating (a condition known as hyperhidrosis). It is a non-invasive treatment approved by the Food and Drug Administration (FDA) to dramatically reduce underarm perspiration with lasting results. During the procedure, the miraDry hand device is applied directly to the underarm area to target sweat and odor glands. This state-of-the-art technology works by delivering controlled energy to the glands to eliminate them and prevent their regeneration, while not affecting surrounding tissue. Results not only leave patients with drier underarms, but the peace of mind to not worry about embarrassing sweat stains.
Best Candidates
Men and women who have excessive underarm sweating, otherwise known as hyperhidrosis, may be a candidate for MiraDry. These individuals typically have stained clothing due to the sweat and the antiperspirants used to try and combat the problem. Excessive sweating is also uncomfortable. People who would like to reduce or completely stop their dependence on special antiperspirants and who also want to stop dealing with the uncomfortable and unsightly sweat in the underarm region are potential candidates for this type of treatment.
Recovery Information
Most patients can resume normal activity directly following the procedure. Icepacks are generally recommended for a few days afterward to reduce any potential swelling or discomfort. Patients can return to work after having the procedure done. It is recommended that to wait several days before exercising so that the area is given a chance to heal completely.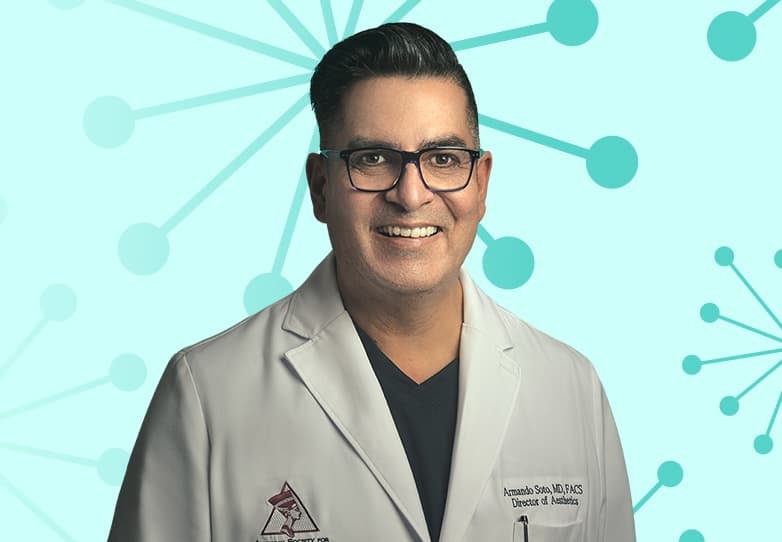 Dr. Armando Soto
Dr. Soto is a board-certified plastic surgeon who brings an exceptional level of attention, skill, and integrity to every patient and procedure. For more than 15 years, he has helped Orlando women and men look and feel fabulous using innovative yet proven surgical and nonsurgical options.
Meet Dr. Soto
Credentials You Can Trust

miraDry® FAQS
How is miraDry® Performed?
A trained practitioner performs miraDry in our office. The hand-held device is placed directly onto the underarm region where it can target the sweat glands under the skin. The energy pulses from the device cause the sweat glands to be eliminated immediately. Although it is a noninvasive procedure, local anesthesia is used to reduce discomfort during the treatment. Most patients spend about an hour in the office and can resume normal activity right away.
Number of Treatments?
It is recommended that patients get two treatments spaced approximately 2-3 months apart in order to see the best results. Results are seen directly following the initial treatment, with most patients seeing a drastic reduction in the amount of sweat that is produced. In a recent clinical study, most patients reported at least an 80% perspiration reduction following the procedure.
Is miraDry® Safe?
The miraDry system is FDA approved to treat excessive underarm sweating. It is safer than other options, such as surgery, because it is noninvasive. It is also a lasting solution because sweat glands do no regenerate. If you are looking for a viable solution to an embarrassing problem that has impacted your life, then miraDry might be a suitable treatment option for you.