Aesthetic Enhancements Plastic Surgery & Laser Center: Armando Soto, MD
7009 Dr Phillips Blvd #100
Orlando, FL 32819
Phone: (407) 218-4550
Fax: (407) 218-4551
Monday–Friday: 9 a.m.–5 p.m.

Vaginal Rejuvenation
Plan Your Procedure
Price Starting At:
$1,000
Recovery Time:
No Recovery Time
Average Procedure Time:
1-2 Hours
Post-op Follow-up:
No Follow Up Needed
The Viveve treatment (formally known as Geneveve) is the current state-of-the-art for non-invasive restoration of feminine intimate function, allowing impressive improvement in function and performance through a comfortable, 30 minute office procedure. The Viveve treatment is great for women experiencing Stress Urinary Incontinence (releasing small amounts of urine when coughing, sneezing, or working out), laxity or looseness of the vaginal wall (lack of tightness), and discomfort or painful intercourse due to lack of lubrication.
Surgical Technique
Viveve uses safe, deep heating of the tissues using radio-frequency energy to stimulate the body's own renewal response and gradually restore healthy collagen. This gives the soft tissue a more youthful tone and resiliency. The procedure is proven to last at least 12 months and only requires one- 30 minute treatment.
What To Expect
Prior to your Viveve treatment you will have a consultation with our nurse practitioner to determine if you are a candidate for this procedure. The procedure takes about 30 minutes and is performed by one of our female medical staff members.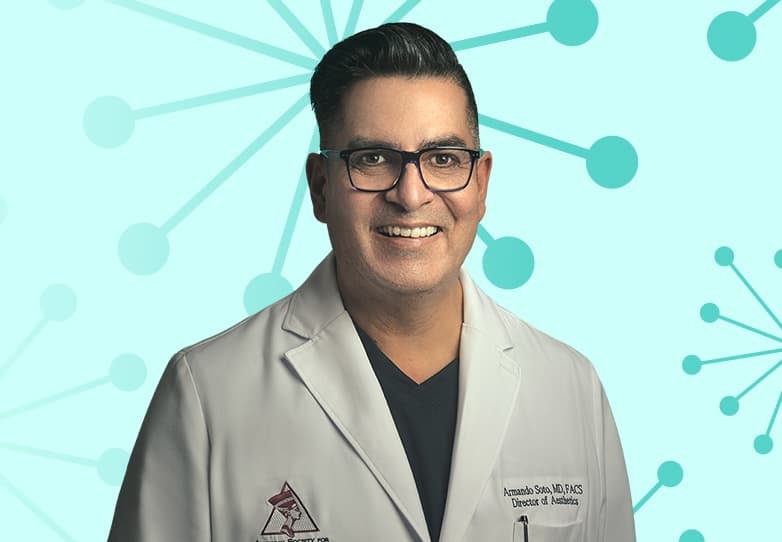 Dr. Armando Soto
Dr. Soto is a board-certified plastic surgeon who brings an exceptional level of attention, skill, and integrity to every patient and procedure. For more than 15 years, he has helped Orlando women and men look and feel fabulous using innovative yet proven surgical and nonsurgical options.
Meet Dr. Soto
Credentials You Can Trust

FAQ'S
Viveve or Labiaplasty
The Viveve treatment is designed to treat the internal walls of the vagina. A labiaplasty is best suited for patients wishing to restore the external appearance of their labia. The Viveve treatment does not usually produce significant change to the external appearance of the vagina, although some patients do experience improvement.
Ideal Candidates
Ideal candidates are experiencing 1 or more of the following symptoms:
Vaginal Looseness or laxity from childbirth or sexual activity
Postmenopausal symptoms
Woman experiencing vaginal dryness and painful intercourse
Woman experiencing Stress Urinary Incontinence (releasing small amounts of urine when laughing, sneezing, coughing, or working out)
Does it Hurt?
The Viveve treatment does not require any local anesthesia or pain medication. The treatment includes patented cooling technology that protects the tissue and makes the treatment as comfortable as possible. Patients have described the treatment as "warm and comfortable."
Treatment Timing
Can I receive treatment early post partum or during menstruation?
Recently post partum patients should first consult with their OB/GYN to make sure they are ready to receive a vaginal treatment. It is recommended that patients schedule their appointment when they aren't menstruating. This not only makes the procedure more comfortable for you, but it also ensures that you get the best results from your treatment.
After Treatment
It is recommended to abstain from sexual intercourse for 48 hours after your procedure. Other than that, the procedure is an out patient procedure and allows you to go back to daily activities or work immediately following your appointment.